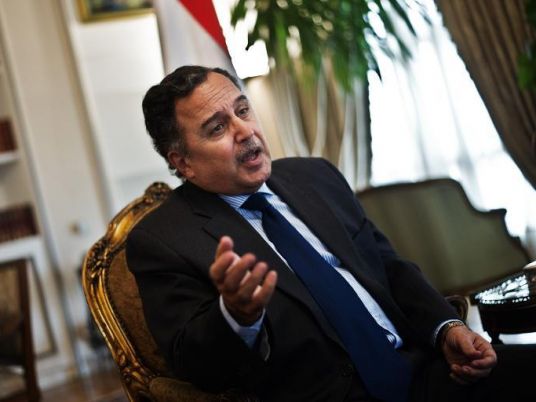 Foreign Minister Nabil Fahmy said foreign countries' viewpoint toward nomination of Defense Minister Abdel Fattah al-Sisi to presidency is linked to stance of Egyptian people and integrity of elections.
Fahmy said in a talk show that aired on privately-owned channel Dream 2 on Wednesday, "We did not prevent any political party from practicing politics. However, specific faction preferred to be apart and boycott."
Regarding the Egyptian expatriates' turnout on referendum, Fahmy said it was higher than the previous referendum.
He added that he does not seek to remain in his post after the political roadmap has been completed.
The US blames Egypt for lack of participation of the Muslim Brotherhood within politics, Fahmy said, adding that this is untrue and that there has been calls on the Brotherhood to take part in constitution and government, but they refused. Fahmy claims this despite the government branding the organization a terrorist group.
He indicated to Interim President Adly Mansour's remarks few days ago over right for everyone to take part within politics, so long as they do not use violence and abide by laws and peaceful methods.
Fahmy said that the US did not welcome results of the constitution referendum like the Tunisian constitution, due to absence of the Brotherhood, adding that the US seeks Brotherhood participation and believes that lack of participation increases violence in Egypt.
Edited translation from Al-Masry Al-Youm