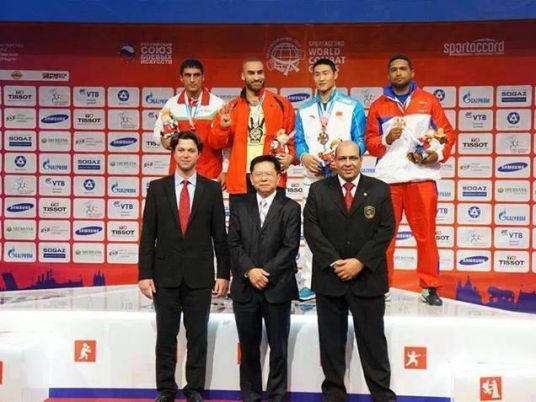 Sport Minister Taher Abu Zeid said that mixing between politics and sport is completely unacceptable and are banned by international laws, referring to athletes who raised Rabea sign in sport tournaments.
In an interview with privately-owned satellite channel al-Hayat on Monday, Abu Zeid said that the situation would be different if the political sign flashed was a picture of Defense Minister Adel Fattah al-Sisi. "There is a great difference between a national figure which enjoys a national consensus, whom Egyptians are happy to raise his photo, and the banned group [the Muslim Brotherhood]."
Last Month, Egyptian Kung Fu Federation decided to suspend a player who flashed the Rabaa al-Adaweya sign after winning the gold medal in the World Combat Games in Saint Petersburg, Russia.
In addition, earlier this month, Ahly striker Ahmed Abdel Zaher was suspended, denied financial dues and put on sale to another team after flashing the same sign after scoring the club's second goal against the Orlando Pirates in the Champions League final which Ahly won.
Abu Zeid added that Egypt can offer new sport champians. "We currently seek to restruct all laws regulating sports in Egypt."
Edited translation from Al-Masry Al-Youm