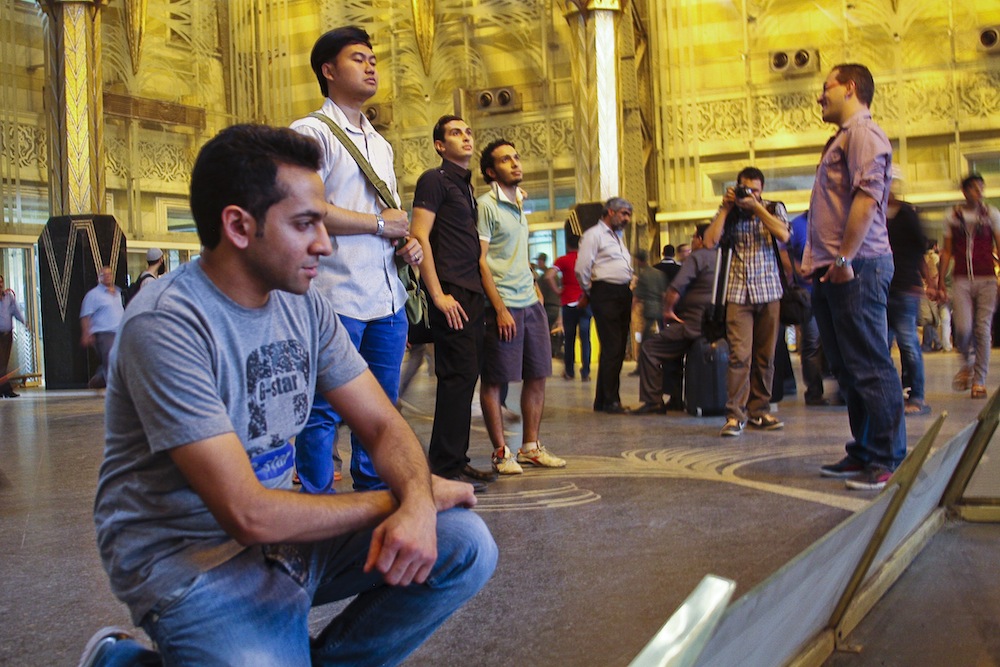 A flash mob at the Ramses Train Station on Thursday sparked tension with spectators and officers of the station's police force. About 40 individuals took part in a freeze flash mob, where for five minutes participants froze in random poses in the main hall of the station, and then again in a second round directly outside the station entrance.
By definition, flash mobs are unusual and pointless happenings done in public spaces by an anonymous assembly and are organized via social media. The first flash mob was conducted in 2003 in New York City. Since then, it has become a global phenomenon.
Belal Hesham Kamal, a 24-year-old IT supporter, advertised Thursday's flash mob on CouchSurfing, Facebook and other online listings. According to Kamal's instructions, participants were to meet at 4:45 pm at the old, black train outside of Ramses for a briefing. At 5:20, they would enter the station and spread out across the hall and at exactly 5:30, freeze in tandem for five minutes, then leave as if nothing happened at all. To the participants, the mission sounded simple, but this is how it actually played out:
4:45 Eight people gathered at the black train in anticipation of the event. Among them were Hossan Hafez and his mother Nadia Hafez. "I saw the video from the last flash mob where Hossan had joined. I admired the idea. It was definitely weird, but there's something nice about it," she said.
Hossan participated in a similar event last September, organized by CourchSurfing Egypt where participants froze in Al Azhar Park.
"The difference between today's freeze flash and the last is that we had to pay to enter Al-Azhar. Here it's very public," said Hossan.
5:00 Inside the station, about 12 others had already converged near the inverted pyramid at the lobby's center. Among them were photojournalists like Joanna Mikhail. She mounted her camera on a tripod on the second level of the station for a full view. Her plan was to produce time-lapse photos of the event.
5:20 Police officers approached photographers with large digital cameras and asked them to turn them off. A station staff member ascended the escalator to the second level, requesting Mikhail provide documents necessary for shooting. Without any, Mikhail successfully stalled with small talk and questions about the upcoming elections as her camera continued shooting. He eventually caught on.
5:25 By now, about 40 participants huddled inside the station waiting for the green light. But persistent probing by the station police interrupted the mission.
5:30 Amid the commotion Kamal went ahead and froze on the dot. Others followed suit by dispersing themselves across the hall and freezing. Two participants were frozen in a handshake while others simply stood still.
"There were some people frozen and some people in the station just hanging out. You couldn't tell the difference. Some didn't even notice," a photographer commented. "I think they require more planning and direction."
5:31 A few passersby took notice and snapped shots with their smart phones; still, some walked on by without a flinch.
5:34 Nearing the final minute, a police officer came face-to-face with the frozen Kamal and a second participant, asking them to desist. They didn't move.
5:35 With the mission officially over, there was a palpable air of dissatisfaction among the participants. "We're doing it again," said Eric Nehring, a seasoned photographer and German teacher in Cairo — but this time, right outside the station's entrance.
5:45 He and a couple other participants took the reins and led the group outside for a second attempt. They redrew the mission, calling for more exaggerated poses.
Aziza Mouftah, who had come to watch the event with a friend, expressed disappointment when she found out there was no dancing or singing. "We came all the way from Zamalek and thought there would be some performance and music like in the videos online," she said. She referred to past flash mobs from London, New York, and even the Dubai Airport where flash mob participants performed complex choreographies.
5:50 Five minutes later, Nehring blew his whistle and on either side of the metro entrance a handful of participants froze. In a comedic moment, when one participant held onto two sheets of newspaper in mid-fall, a rubbish collector reached for the paper only then to recoil from confusion.
5:55 Banter was exchanged between participants and bystanders. And the police returned to cancel the event. "These guys are brave in what they're doing and we should look at them and follow them. But security is afraid of gatherings because in this time of revolution, it's dangerous. They don't understand this freezing. This doesn't happen in Egypt," Ashraf said.
Some participants were worried that arrests would be made or that a scuffle would break out. Neither occurred.
6:05 After the crowds dispelled, an officer took Kamal aside. Rumors spread that the train station authorities confiscated cameras with footage of the event. But when Kamal returned, he denied it saying that the securities had simply explained to him the proper procedures for requesting clearance to shoot footage inside the train station.
The remaining participants shifted to a nearby cafe. Mahmoud Sabr, a participant, reflected on the event: "If this were Korba or Zamalek, people would have reacted better. But at the train station, they're coming from everywhere. And people in the crowd saw some foreigners and were thinking conspiracy theories, as if we had spies. These people are not open to new ideas."
A tired Kamal said that event fulfilled 75 percent of his expectations, wishing that more people had joined in. On Facebook some 174 people confirmed their attendance, but only less than a fourth of that number were present.
"Next time, I'll make sure they come," Kamal said.