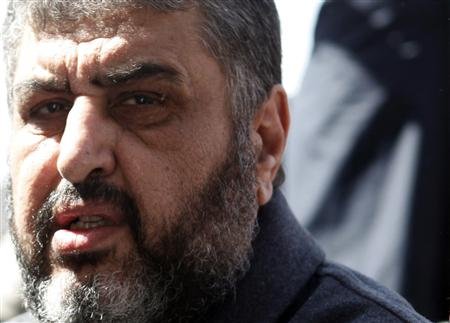 Parliament members of the Muslim Brotherhood's Freedom and Justice Party signed notarized documents on Monday in support of the party's presidential nominee, Khairat al-Shater.
Shater resigned from his post as deputy supreme guide Saturday after the group endorsed him as its nominee.
Other political groups and some top Muslim Brotherhood members have criticized the decision because it contradicts the Brotherhood's earlier decision not to field a candidate in the presidential election, slated for 23 and 24 May.
A candidate must collect notarized powers of attorney from 30,000 people across 15 governorates or from 30 members of both houses of Parliament.
Brotherhood members have said they will rely on MPs' support. The FJP occupies a majority of seats in both chambers of Parliament.
"Our Parliament representatives are heading to notary offices to provide Shater with political and electoral backing," the group's lawyer, Abdel Moneim Abdel Maqsoud, told Al-Masry Al-Youm. "It is not difficult for the Brotherhood to gather signatures from thousands of citizens, but we opted for the MPs backing to help our candidate save time.
"We could collect 30,000 signatures but did not want to get notary offices overwhelmed with queues of citizens," said Mokhtar al-Ashry, an official from the FJP's legal committee.