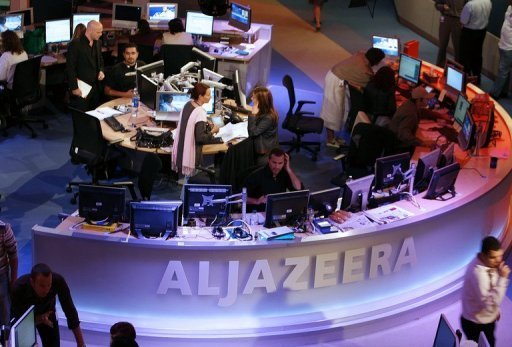 The Supreme State Security Prosecution detained five people for 15 days pending investigation over charges of allegedly reporting false information and inciting violence.
The suspects were arrested on Tuesday in a hotel in Zamalek for allegedly cooperating with Al-Jazeera TV in Egypt.
Police claimed that they were in possession of false videos of clashes that took place in Al-Azhar University over the past few days, showing that police attacked students, in addition to alleged reports that instruct protesters on how to attack security personnel.
During interrogations, the suspects admitted that they worked for Al-Jazeera English, and added that they obtained permits like all other foreign reporters in Egypt. They denied possessing reports inciting attacks on security personnel during protests.
They added that they published instructions on how to avoid tear gas used by the police against protesters.
According to the government's claim, the suspects rented a suite in Marriott Hotel in Zamalek to organize pro-Muslim Brotherhood demonstrations, which have been banned after the Egyptian government recently labeled it a 'terrorist group.'
The government also said that Al-Jazeera TV paid one of the suspects US$200 daily through the Australian national who was been arrested and another unidentified British national.
The defendants have been accused of preparing press reports that distort the image of Egypt abroad, forming a cell to circulate false information, inciting violence, and holding secret meetings to implement the objectives of the Muslim Brotherhood.
Judicial sources told Al-Masry Al-Youm that the Australian Embassy has been notified to attend the interrogation session with the Australian national.
Edited translation from Al-Masry Al-Youm