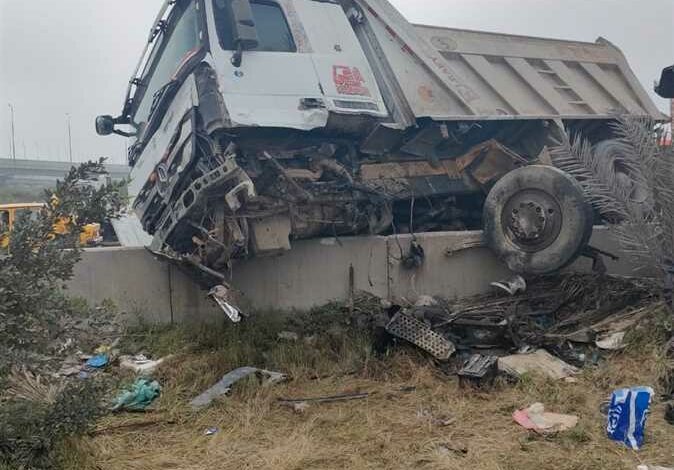 Five people were killed and five others were injured when a truck-trailer loaded with sand collided against other cars in the opposite direction, on the International Road in eastern Alexandria.
The deceased were transferred to the morgue on orders from the Public Prosecution, and the injured were taken to the hospitals to receive the necessary treatment
The Alexandria Security Directorate received a notification from the Third Montazah Police Department, stating that a collision had occurred at the entrance to the International Road 45 east of Alexandria.
Immediately, the officers of the department moved to the scene of the accident, accompanied by traffic officers, civil protection forces and ambulances.
Investigations revealed that as the truck-trailer was traveling on the road one of its tires exploded, causing the vehicle to swerve and crossed the barrier in the middle of the road to the opposite direction hitting five cars.
The accident resulted in the death of three people on the spot, and the injury of seven others who were taken to the hospital, and two of them died upon arrival, bringing the total number of victims to five dead.
Three patients are being treated at the Amiri University Hospital, and two injured are being treated at Toson Hospital.
Police filed a case on the incident, and the Public Prosecution took over investigations.
The General Traffic Department, in coordination with the Civil Protection Forces, removed the debris of the accident and returned traffic to normal.
Car accidents see overall decline
The 2020 report of the Central Agency for Public Mobilization and Statistics (CAPMAS) issued in November showed a decrease in the number of deaths due to road accidents to 6,164, compared to 6,722 deaths in 2019, a decrease of 8.3 percent.
Road accident injuries in Egypt decreased during 2020 by 28.9 percent compared to the previous year, where 56,789 injuries were recorded in 2020, compared to 79,904 injuries in 2019.
The lowest number of injuries was in Cairo Governorate was with 219 injuries. CAPMAS noted that the highest month of the year in terms of road accident injuries was January with 6,495 injuries, while June was the lowest month with 3,282 injuries.