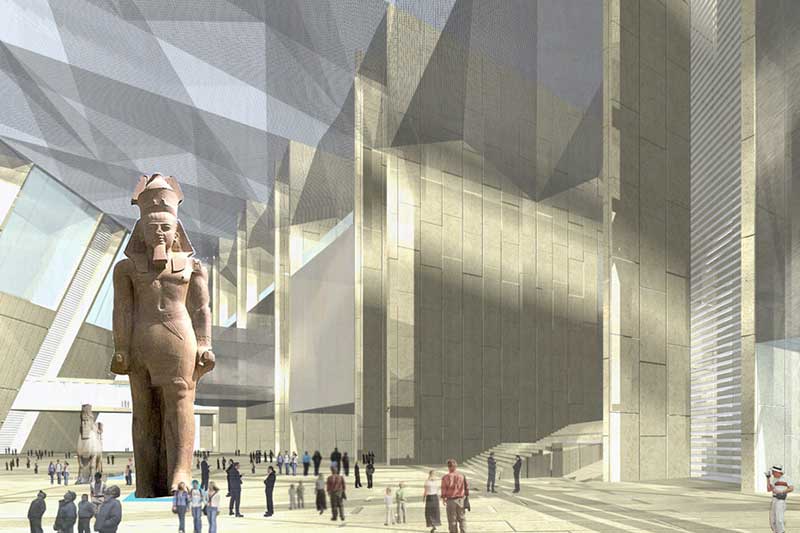 Egypt's cabinet said on Wednesday that five million people are expected to visit the highly-anticipated Grand Egyptian Museum on an annual basis, adding in a new info graph released this week that 90 percent of construction work and artifact transfers have been completed for the new mega museum.
A freshly released info graph presented by the Cabinet this week also indicated that the GEM will house the world's largest antiquities collection belonging to a single civilization, with 49,603 artifacts, among which 46,000 were restored, having been transferred to the GEM, which is located near the Giza Pyramids.
The GEM will feature several entertainment hubs, including restaurants and theaters, alongside the main hall, a reception area for VIP visitors, the conferences hall, and a playground.
Meanwhile, hotels in the area are currently undergoing a comprehensive renovation process to prepare for accommodating a wave of tourists visiting the museum.
All streets leading to the GEM, including the ring road, are set to undergo more development work, and the Fayoum road is set to be expanded to four times its current size to accommodate an increase in tourists in the area.
The info graph focused on recent accomplishments by Egypt's antiquities sector, including new excavations, developments concerning numerous artifacts and archeological sites, efforts to track smuggled antiquities and curb smuggling, and the launch of diverse local and international events promoting the study of ancient Egyptian history and the Egyptian tourism market.
It also underscored three exhibitions at the GEM displaying a remarkable collection from King Tut's belongings, highlighting that over 130,000 tickets have been sold to the "Tutankhamun, Pharaoh's Treasures," exhibition, which ran at the Grande Halle de la Villette in Paris. The second exhibition was held in London's Saatchi Gallery, while the third took place in the US.
London exhibited 150 items from among the King Tut relics excavated by Howard Carter in 1922 during its temporary exhibition in Saatchi Gallery, for which nearly 300,000 tickets have been sold.
However, the Grand Egyptian Museum is set to house 5,000 relics from Tutankhamun's collection — including 2,000 artifacts being showcased for the first ever time, according to Egypt's Minister of Tourism and Antiquities Khaled al-Anani said that
Construction of the GEM first began in 2006 but slowed due to the outbreak of the January 25th revolution in 2011 and years of instability that followed. The museum is set to open its doors to visitors this year.