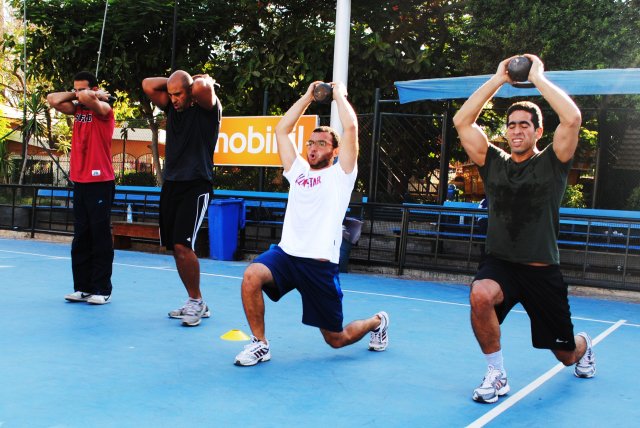 This piece was originally published in Egypt Independent's weekly – See more at: https://www.egyptindependent.com/news/world-their-backyard-children-ard-al-lewa-learn-about-differences-through-safarni#sthash.ZXGUUsHC.dpuf
With its strong presence in the country over the past couple of years, CrossFit is aiming to help Egyptians get into the best shape of their lives.
CrossFit is a core strength fitness program designed to substantially enhance an individual's overall physique and health. Instead of specializing in boosting one aspect of fitness, participants are trained to master 10 different skills. These include cardiovascular and respiratory endurance, stamina, strength, flexibility, speed, power, agility, coordination, balance and accuracy.
"CrossFit offers a well-rounded program in which each skill has a distinct utility that works on strengthening the human energy systems, and helps in facing multiple sporting challenges," says 22-year-old Mohamed Auf, a CrossFit coach.
Measurable changes in the body's ability to successfully maximize its fitness level are achieved by engaging in compound movements, rather than simply training individual muscles. Metabolic conditioning, gymnastics and Olympic lifting are the three main workouts that fall under CrossFit's high intensity umbrella program, which targets both amateur and elite athletes.
CrossFit began in 2000 in the US when George Classman set up the first affiliated gym, CrossFit North, in Washington.
Ramy Saleh, one of the founders of CrossFit Stars, introduced the workout to Egypt in 2011 after learning about the sport's benefits in the US two years earlier, hoping to bring back his experience to the Egyptian community.
The idea has proved to be a successful one, and has expanded across the capital in clubs, gyms and up-scale residential compounds.
CrossFit participants are often seen squatting, pulling up, pushing up and back flipping. Additionally, flipping tires, weightlifting, rowing, sprinting, jumping and climbing ropes are among the hardcore movements involved in the regime.
A CrossFit gym typically encompasses commonly found equipment, including barbells, dumbbells, gymnastics rings, pull-up bars, kettle bells, medicine balls and boxes for box jumps.
Auf always sits down with newcomers to the program to ask about their health history and physical activity levels to ensure that no health hazards are encountered during training. However, he stresses that CrossFit is a broad-based exercise regime that makes it one of the most effective workouts around for all fitness levels.
"All participants exercise using the same movements, but undoubtedly athletes who have a good base of physical fitness will spend less time on a step in comparison to beginners," Auf adds.
The average workout takes up to one hour but consistency is essential to get the most out of the physical workout. The number of sessions participants should attend is determined according to the amount of exercise that a person can take throughout a week.
Auf says non-athletes kick off with two sessions, possibly spending months mastering the basic movements of CrossFit. Eventually, however, "they will feel the difference in their physical condition while enjoying a great deal of room for more progress."
The first phase is usually difficult, Auf says, especially for those who haven't exercised for a long time. Participants need to practice the movements correctly on a regular basis and comprehend the mechanics involved as well.
"Once this phase is reached, they can build up stamina and strength that consequently lead to higher intensity," he says.
The program is split into three age groups, targeting ages 8 to 15, 15 to 45, and 45 and older. Each phase is tailored specifically to meet the physical needs of target attendees.
The key to reaching the best intensity level lies in regularly striving for achievement, rather than going through a cycle with no driving ambition at the end.
"Participants should set a long-term target to themselves every now and then, because it is normal that at some point they would lose interest," Auf says, stressing that he leaves participants to set their own targest, to avoid the feeling of being tasked.
To keep the interest level up, he adds, participants must consider the program from the very beginning as a lifestyle choice, and bear in mind that the physical skills developed during workouts can also have a positive impact on their lives — rather than just being a way to lose weight.
For a schedule, visit www.crossfitstars.com.
This piece was originally published in Egypt Independent's weekly print edition.
This piece was originally published in Egypt Independent's weekly – See more at: https://www.egyptindependent.com/news/world-their-backyard-children-ard-al-lewa-learn-about-differences-through-safarni#sthash.ZXGUUsHC.dpuf
This piece was originally published in Egypt Independent's weekly – See more at: https://www.egyptindependent.com/news/world-their-backyard-children-ard-al-lewa-learn-about-differences-through-safarni#sthash.ZXGUUsHC.dpuf
This piece was originally published in Egypt Independent's weekly – See more at: https://www.egyptindependent.com/news/world-their-backyard-children-ard-al-lewa-learn-about-differences-through-safarni#sthash.ZXGUUsHC.dpuf
This piece was originally published in Egypt Independent's weekly
print edition
. – See more at: https://www.egyptindependent.com/news/world-their-backyard-children-ard-al-lewa-learn-about-differences-through-safarni#sthash.ZXGUUsHC.dpuf