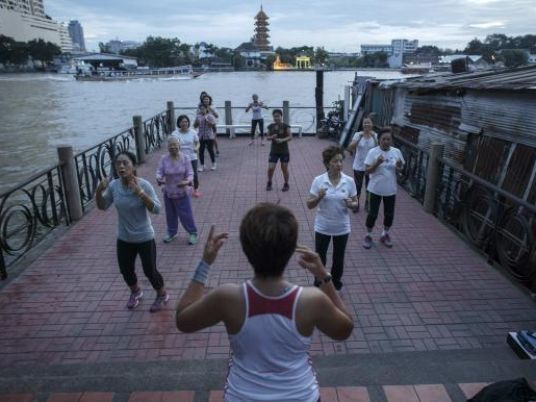 Forget that ratty T-shirt. Workout clothes have gone high-tech and fashion forward.
Trendy fitness studios, slimming fabrics and social media have come together to tailor a generation of workout clothes that are stylish, workout-specific and versatile enough to go from exercise to errands without breaking a sweat.
Miami-based fitness instructor Jessica Smith credits social media with creating a generation that wears its workout on its modish sleeve.
"Before we weren't taking selfies at the gym," Smith said. "Now it's a badge of honor to wear a crossfitter wrist band or a cyclist's tight pants."
Helena Cawley, chief executive of SWEATSTYLE, a personalized shopping startup for active wear, said yoga pants are the new denim.
"Look out the window at how many people are wearing their workout gear to run errands, pick up kids, lunch with friends," she said.
Cawley, who also runs the Uplift fitness studio in New York City, got into fashion after noticing that her clients were drawn to more fashionable workout clothes.
She said leggings, ubiquitous on and off the streets, were probably the first thing to catch the eye of the active wear, or athleisure, crowd.
"They make the legs look good, and that translated into the rest of wardrobe, into slimming fitness tops that, while they're close to body, can work for you," she said.
The use of compression materials in mainstream fitness clothing, previously favored mostly by professional athletes, furthered the trend.
"The cut has been worked and re-worked to smooth the stomach area, eliminate muffin tops," Cawley said, and new materials minimize sweat and body odor.
Exercise physiologist turned fashion designer Linda LaRue, who started American Fitness Couture two years ago, said active wear is a hard niche to get right.
"If a T-shirt is off a half an inch (1.3 centimeters) it doesn't' matter, but because it's a form-fitting garment active wear has to be precise," she said.
Vegan leather and animal prints, which are trending now, are really fun, LaRue said, adding that good fabric has a four-way stretch and designs that move along anatomical planes.
Cawley believes the men's market could be the next growth area and target for active wear, although men are not as particular about appearance.
"They don't care as much about fashion as performance," she said, "as long as pieces fit well, feel good, last long and don't stink."