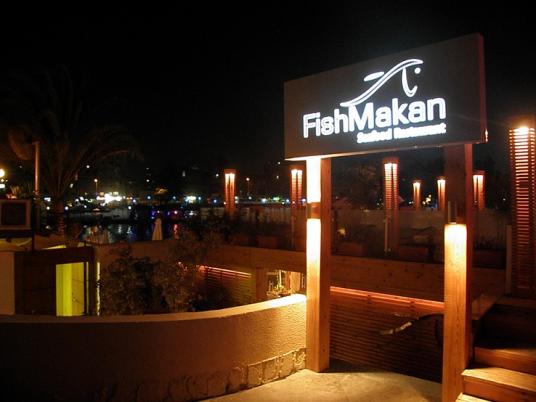 In an attempt to refurbish a certain section of the northwest bank of Zamalek, at 33 Abul Feda Street, various investors have brought their services to a new mini-complex that hosts various restaurants, coffee shops, diners and a soon-to-be Mrs. Fields Gourmet Cookies shop.
One of these venues is a newly established seafood restaurant chain named FishMakan, which has just had its soft opening for public tasting in recent weeks.
FishMakan was first opened in the Sahel a couple of years ago and has recently undergone a complete face-lift after its business operations were taken over by the same people that created Mori Sushi; the Zamalek location is the first in Cairo.
In this vein, the style and feel of the place is very much like that of Mori Sushi, with its minimalist decor, nicely uniformed staff and inviting menu. The place is also well-lit with lots of wood, whites and blues, and allows one to enjoy a meal in the open air along the Nile without the feelings of forced eventfulness that Sequoia brings. There's also some indoor seating behind glass for the wintertime.
Think a smaller, more understated and intimate version of Fish Market.
The food overall was excellent, and the menu was quite minimal, making it more inviting as it's not overwhelming whatsoever. The options are seafood standards of grilled and fried fishes, dips, calamari, crabs, etc., served without much gastronomical intervention.
Since this was a tasting, a lot was ordered.
For starters we had dips – tahina, hummus, etc. – including taramosalata, a pinkish dip made from blended fish roe – mini-shrimps, octopus with lemon, fried calamari, minced crabs, herring salad and general salads.
For the main entree, there was an assortment of grilled lobster, butterfly shrimp, sea bass, octopus and rice.
Everything ordered was excellent and cooked lightly, allowing one to eat a lot without feeling bogged down after by greases and oils.
The most eventful item ordered was the crab starter, which was served very neatly in small, individualized shells. Personal favorites were the taramosalata dip, the fried calamari and the butterfly shrimp.
FishMakan simply serves good, light seafood as is, and provides the right sort of intimate atmosphere to do it in. You're not taking it away from a localized street vendor, and you don't feel like you're in a commercial franchise like Fish Market.
As stated earlier, it appeals in the same way that Mori Sushi does, and pricing is about the same. Food is to be shared at FishMakan, and the cost for a meal would average out to about LE100-150 per person.
The only downside is that, like Mori Sushi, no alcoholic beverages are served. The only thing missing from this pleasant meal was an ice-cold beer.
Delivery is also available.
FishMakan: 33 Abul Feda Street, Zamalek. Phone: 0227373885 / 3886