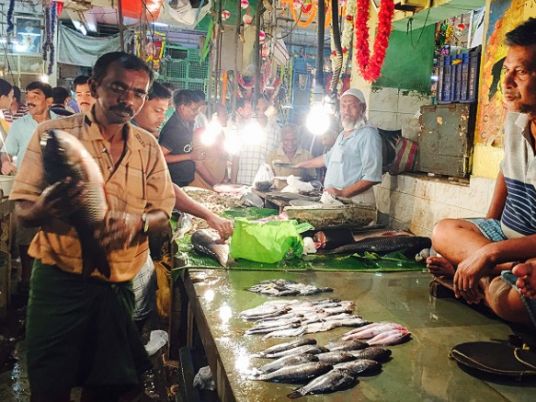 For many travelers, it's hard to imagine a less appetizing place than a fish market.
The impermeable smell of seafood.
Fish guts flying as their gaping dead-eyed heads get chopped off.
Hardly the stuff dream vacations are made of.
But in places where seafood represents a huge chunk of the local economy, fish markets are an essential stop for anyone who wants to gain a true sense of the local culinary vibe.
Nowhere is this truer than in the Indian city of Kolkata, the capital of West Bengal.
"In Bengal, there's a saying. If you're not a fish eater, you're not a Bengali," says Indian chef Gaggan Anand, whose eponymous Bangkok-based restaurant was voted best in Asia earlier this year.
CNN recently accompanied Anand back to his hometown of Kolkata as he got reacquainted with his culinary roots.
One of the most important stops on his itinerary? A Sunday morning visit to the city's Lake Market.
Anand says this is where you'll find some of the best fresh water fish in West Bengal.
"A fish to a Bengali is his soul," he says.
"A fish could win the heart of a Bengali or could destroy your friendship with him. These guys dare not cheat on the quality. For prawns, shrimps… I don't trust anyone else. I trust this market."
In West Bengal, the majority of its fish is caught from ponds and rivers — including several varieties of carp, catfish and ilish. Thus they taste sweeter than their salt-water cousins.
As a good indicator of just how important the fishing industry is to the local economy, this week it was announced that Kolkata is planning to open the country's first fish hospital.
According to a report in the Times of India, the hospital will have facilities to diagnose and treat ailments in fish commercially bred in the state.
"West Bengal was the country's largest fish producer till it was overtaken by Andhra Pradesh in 2011-12," says the report.
"Experts believe that the yield in Bengal can go up if healthier species are bred."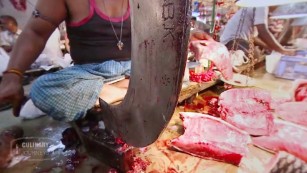 World's scariest fish monger blade?
During CNN's visit with Anand, Kolkata's Lake Market is filled with the shouts of animated bargaining as buyers fight for the best prices — and the best catch, which sells out quickly.
As all this is happening, constant, loud cracking noises punctuate the air.
It's the sound of fish parts being broken apart by a deadly-looking curved blade known as a Bengali bonti, used by the region's fishmongers for centuries.
"The weight of the blade is so heavy, you can't carry it, you need to sit on it," says Anand, referring to the wooden base out of which the sharp appendage extends.
"You won't find it in any other market in India."
To Anand's ears, the sounds of fish slicing through the bonti blade are a sweet reminder of his childhood, when his passion for cuisine began to take hold.
"My house was 1 km from here," he says of the Lake Market.
"My earliest memory was when I was with my dad, holding his hand, shopping. This is what has brought me to the culture of food, where I am today."