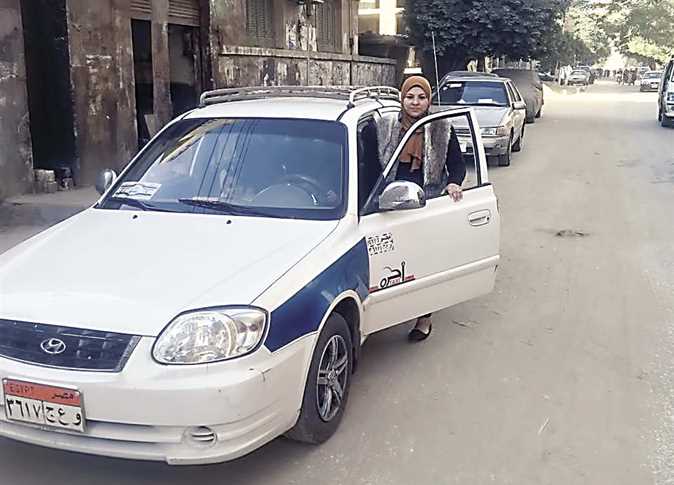 While President Abdel Fattah al-Sisi was delivering a microbus to madam Nehmedo, another woman, Asmaa Gouda, was receiving a license to drive a taxi in Beni Suef, becoming the first female taxi driver in the Upper Egyptian governorate.
Gouda said that she went to the Beni Suef Traffic Department and got the license after passing the tests successfully.
"I got a professional license to work as a taxi driver inside the city. I know I will be harassed at the beginning of my work as a driver, but I insist on making a better income for my family," she said.
Gouda, 31, has received an undergraduate education, is a mother of two, and over six years ago married Mohamed Sayed, a state servant.
"I felt the need to help my husband, and I convinced him to teach me driving and offered to drive the car during the day while he is at work, to take some pupils to schools, as well as my children," she said.
"I am now working for five hours in the morning until my children leave school and my husband returns from work. We have lunch and then I go to drive the taxi from 3 pm to 8 pm, and this is a good income for me and my family," Gouda added.
She added that the taxi fare is set by the governorate at LE 7 for one citizen within the city, which provides a satisfactory income. She pointed out that her father and brothers encouraged her to drive the taxi and they promised to stand by her side in case of any problem.
The head of the Beni Suef Traffic Department, Brigadier General Hosam al-Shayeb, said that Gouda obtained a taxi driver's license, pointing out that many women had obtained a license to drive a car, but Asmaa was the first in Beni Suef to obtain a professional license to drive a taxi after she passed the tests successfully.
Edited translation from Al-Masry Al-Youm