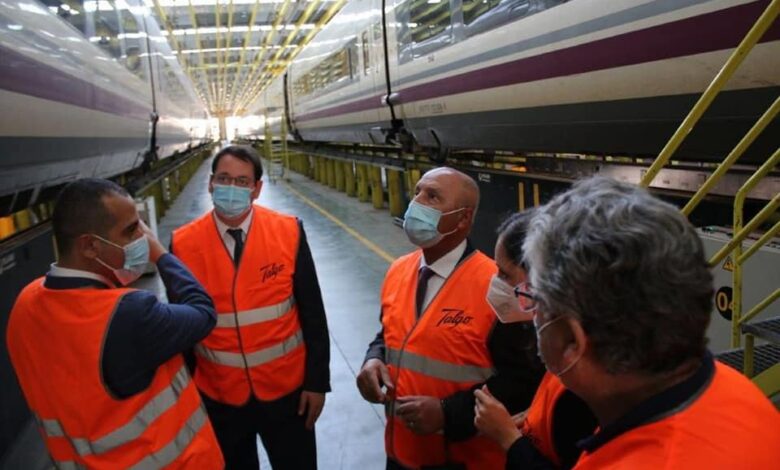 Egyptian Transport Minister Kamel al-Wazir held an extensive meeting, on Thursday, with the delegation of the Spanish international company Talgo, headed by Gonzalo Fernández – CEO of the company, to discuss the timeline for supplying seven trains.
The delegation said that the first train would be shipped during the first half of February, provided that the schedule for shipping other trains would be compressed successively.
The company's delegation confirmed that Talgo gives the project to supply railway trains contracted with Egypt the first priority among the various projects that the company is implementing.
During the meeting, the Transport Minister demanded the supply of all trains during the current year to support the Egyptian National Railway (ENR) fleet and continue to provide distinguished services to passengers.
The company is scheduled to supply seven trains, six trains contracted between ENR and Talgo, and a train that the company will supply as a gift to the Egyptian people.
The Transport Ministry says that this type of train is distinguished by a design that grants them stability while traveling quickly in curves, which helps them reduce travel time, in addition to high operating speeds of up to 160 km/h.
The coaches are also made of aluminum, currently used in most trains internationally, which reduces the weight of the train and thus saves on fuel consumed in the journey. It is also rust-resistant and therefore does not corrode from the water used in the cleaning and maintenance of trains.
These new trains are expected to provide the highest level of luxury and safety for passengers through capabilities such as places for people with disabilities.
It will also be equipped with a video system to display movies and instructions through display screens for each seat in first-class coaches, and central screens in second-class coaches – in addition to providing the trains with surveillance cameras and a control room.
Each of the contracted trains consists of a locomotive, a power car, an air-conditioned buffet car, five air-conditioned first-class coaches and eight air-conditioned second-class coaches.