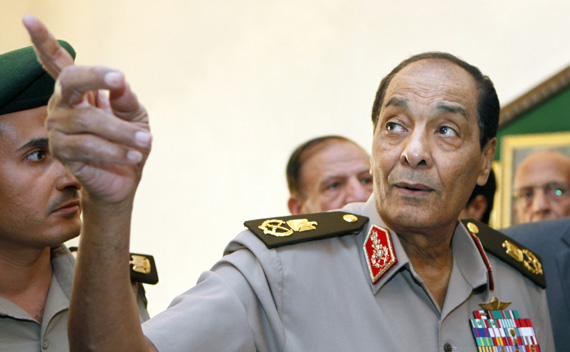 The former head of the Supreme Council of the Armed Forces, Hussein Tantawi, said the uprising in Egypt would have become violent like Libya or Syria if it were not for the armed forces, in portions of an interview published Sunday in state-run Al-Ahram newspaper.
Tantawi said the military has refused all attempts to be pushed into violent clashes, but has been tolerant when facing insults and provocations.
"Our great army remained, preserving commitment and discipline," he told interviewer Mostafa Bakry, the editor-in-chief of Al-Osbou newspaper.
Bakry claimed in a telephone call with privately owned satellite channel Orbit that the Al-Osbou issue with the complete Tantawi interview had been banned.
"We protected the revolution," Tantawi said, "and did not fire a single bullet. We sided with the people and, thank God, we fulfilled what we had pledged, as we conducted free and fair elections on schedule."
In his first interview since President Mohamed Morsy sent him to retirement in August, Tantawi said he is not concerned about media reports that he was banned from travel on corruption charges.
"I have endured a lot before, and I leave everything to the judgment of history," he said.
The Shura Council had suspended Al-Gomhurriya newspaper Editor-in-Chief Gamal Abdel Rahim for publishing a story last Wednesday about Tantawi and former military Chief of Staff Sami Anan being banned from leaving the country as they are being questioned on corruption charges.
Tantawi said he gets together with a number of his close friends from time to time, and denied rumors of being depressed.
Bakry added that Tantawi chose Abdel Fattah al-Sisi to succeed him as defense minister in an agreement with President Morsy.