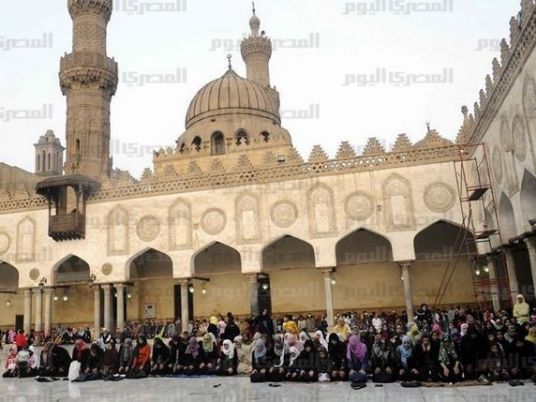 Preachers at Al-Azhar shunned the government decision that identical, government-approved sermons should be delivered in all mosques during Friday prayers, with President of Al-Azhar University Ibrahim al-Hodhod speaking yesterday on his own chosen topic.
The Religious Endowments Ministry's new policy for Friday sermons was enforced as of yesterday after being announced just under two weeks ago. The ministry handed out copies of the standardized sermon — about abstinence and generosity — to mosques across the country, calling on preachers not to violate the new rule.
During Zuhur prayers on Friday, Hodhod delivered a sermon on justice in Islam. Speaking to Al-Masry Al-Youm, he defended his move by saying that policies issued by the Religious Endowments Ministry do not apply to the ancient center of Islamic scholarship, Al-Azhar, and its preachers fall under the rulings of Al-Azhar only.
Deputy President of Al-Azhar University Abbas Shouman reiterated this, saying that the ministry's decision on prescribed sermons is non-binding for Al-Azhar scholars, who have sufficient expertise to make their own judgements on suitable material.
The former president of the university, Ahmad Omar Hashim, now on Al-Azhar's Council of Senior Scholars, said he refuses to read a scripted Friday sermon.
Other members of the council threatened to give up preaching if the ministry sticks by its decision.
It was reported that preachers across the country — from Sohag to Kafr al-Shaikh to the governorate of Alexandria — also overrode the policy and chose their own topics on Friday.
The dispute between the Religious Endowments Ministry and preachers has not died down since the announcement of the decision earlier this month, with scholars from Al-Azhar being particularly vocal in raising objections to the policy.
The ministry has been providing imams with topics for their sermons at Friday prayers since 2014, but the latest move confines all preachers to reading from the same script.
Several preachers have expressed fears that the new system will make preachers lazy and cause them to loose their knowledge of Islam, forced to read mindlessly from a piece of paper where they used to prepare their own material on a weekly basis. Others have labeled the move as the death of creativity, and still others fear it will destroy the relationship between the preacher and the listeners, eventually causing people to lose interest in Friday prayers.
Combating security threats linked to extremist Islam has been at the top of President Abdel Fattah al-Sisi's agenda since he took power from the ousted Muslim Brotherhood in 2013, and it is believed that the sermon policy is the government's latest move to stamp out hotbeds of extremism.