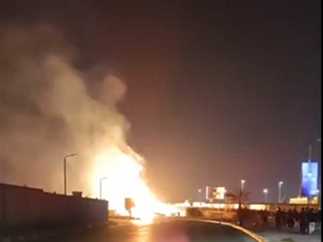 The Public Prosecution Office in Alexandria is continuing its investigations into a massive fire that destroyed more than five shops and two properties in the al-Mansheya market, resulting in injuries to 12 people and huge financial losses.
According to investigations, five of the victims were taken to the Amiri University Hospital.
A13-year-old girl was rescued at the scene of the accident, and six others from the Civil Defense Forces received first aid on site.
Director of Alexandria Security Mahmoud Abu Amra received a notification stating that a fire had broken out in the market.
Civil protection forces, accompanied by the ambulance, and police rushed to the scene. Investigations showed that the cause of the fire was an electrical short circuit in a paper shop.
The flames and the fire spread to five nearby shops and two properties resulting in the destruction of their stock.
Damage to other nearby shops that are being counted.
The district officials evacuated the two properties affected by the fire from the residents, until their structural safety was ascertained.