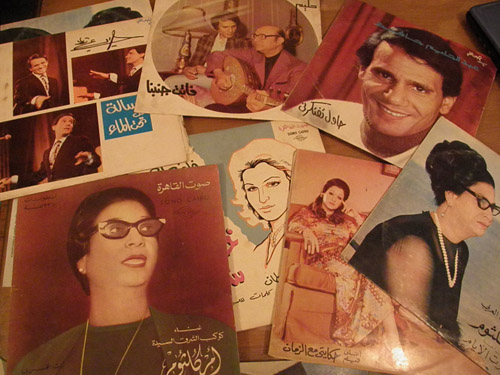 Many Cairenes are moving away from listening to vinyl records to CDs and MP3s. Still, for some, the experience of vinyl cannot be translated to these new formats, with their tiny to nonexistent artwork, digitally crunched and flattened sound and commoditized marketing that refuses to properly acknowledge rarities, oddities and live shows — often some of the best parts of musical acts.
Despite its unique cultural history, Cairo might seem like an unpromising place for vinyl record lovers, as records haven't been available on the mainstream market for decades. But searching for vinyl in Cairo can be quite a fascinating experience.
Whether it is the interesting shopkeepers one meets, the off-kilter Western music varieties on sale, the journeys you'll take into the worlds of forgotten Egyptian musical acts, or simply the unregulated, cheap prices, Cairo has much to offer.
The following is a list of select places across the city to find vinyl records and the equipment to play them.
Sawt al-Qahira (Sono Cairo)
Downtown's Sono Cairo is said to be the first vinyl company in the Middle East. Famous Egyptian composer Mohamed Fawzy founded the company in 1958, and it became quickly associated with the work of music icons like Om Kalthoum and Mohamed Abdel Wahab. Its branding can be found on most of their records.
Sono Cairo stopped publishing vinyl in the '80s. But hundreds of brand-new records remain in the company's back rooms. Ask the shopkeepers for "estowanat," and you'll be led into a room with piles of brand new records that were never sold.
Within their collection, you can also find records from surrounding downtown record stores that shut down.
Many of the golden era mainstream artists are to be found in these collections, such as those aforementioned as well as Abdel Halim Hafez, Warda and Abu Bakr Khairat. These artists' records can be found in most record stores in the city. One can also find beautiful varieties of 1960s French, Italian, Greek and Spanish records that were popular at the time.
Perhaps the most interesting finds in Sono Cairo are records of Heliopolis' Cairo Free Jazz Ensemble from the late '60s, and the 1966 Christmas Party by The Mass band at the Gezira Club. Such records offer insights into a world one often hears about from older generations.
Cairo Free Jazz Ensemble's music is amazing to listen to, reflecting the sound of the city back at the time. The Mass was the Gezira Club's regular rock 'n' roll band that encapsulated the spirit of the youth and brought the swinging '60s to Cairo. On the record are covers of The Beatles and The Rolling Stones' songs, as well as a number of rhythm and blues jams and originals, amid crowd cheering and laughter.
Sono Cairo is on Al-Borsa al-Gedida Street, off Talaat Harb Street, Downtown.
Mazeeka Samir Fouad
Perhaps nowhere else in Cairo will you find a bigger collection of old format music players and records. Ask and you will be shown thousands of records stored in rooms throughout the building. Records of both Egyptian and Western music from almost every genre are available.
This store takes a bit of patience to sift through the vast collection. But the rewards are also much greater. One can find records printed in the 1920s and 1930s by record labels like Fabrik Mechian Records Cairo. On one of these records, entitled "Awaftak Di Achbar min Nar" (which literally translates to: "Your Feelings are Stronger than Fire," probably due to a typo — its title was transliterated into English). The name of the artist is not stated on the cover, but the music is an amazing genre of Arabic jazz with female vocals. A copy of this record was sold online on a rare record website in 2009 for US$91. The Zamalek store sold it to this reviewer for LE10.
Les Petits Chats fans can also find their records at Mazeeka Samir Fouad.
The store also has a collection of photographs of old bands like the Skyrockets. The Egyptian rock 'n' roll band, according to Fouad, was popular in the late 1950s, and their songs criticized the rising middle-aged bourgeoisie.
In addition to these rarities, one can also find records made out of stone (as they were in the early 20th century), and entire collections of work by renowned classical composers like Tchaikovsky and Mozart for under LE100.
According to the store manager, Ahmed Hamada, these records were collected over several generations from abandoned houses around Cairo and old record stores. Many were also taken from the Khedive Royal Opera House's library while it was burning in 1971.
Mazeeka Samir Fouad is located on Ismail Mohamed Street, Zamalek. It is on the second floor, above Metro supermarket.
Most records cost anywhere between LE10–LE25 each.
ION Electronic Fields
ION is run by Farid Samy Raheb and his son Samy. Chatting with the two is a wonderful experience. Both are old format music aficionados.
They only carry about a hundred records in stock at each of the two locations, but they can get almost any record one asks for, which was proven after asking for a rare Om Kalthoum record, "Ghareeb Ala Bab Eraja" ("Stranger at the Door of Hope"). This service, however, comes at an additional price, anywhere from LE50 to LE150.
What's most unique about the ION stores, however, is not necessarily their record collections, but rather the equipment that can play vinyl records.
Both father and son have been collecting and repairing phonographs, record players and tube amps for years. If one is looking to buy a record player or an old tube radio, at perhaps Mazeeka Samir Fouad, Farid and Samir could have it fixed for you and fine-tuned to play whatever you want.
ION has two branches: one at 34 Mohamed Mazhar St., Zamalek, and another at 16 Abdel Hameed Abdel Wahab St., Nasr City.
Morgana Antique Store & Flex Music Store
Although these stores do not hold the nostalgic gems and rarities found in the other stores, they carry some of the best collections of Western vinyl records available in Cairo.
One can find records of The Beatles, David Bowie, Velvet Underground, Bob Dylan, The Rolling Stones, Ricky Nelson, the Kinks and Jimi Hendrix — pretty much every classic rock artist one can think of. There's also all the pop classics like Michael Jackson, Neil Diamond and Queen. One can also find much more interesting 1980s indie acts such as The Smiths, Blondie and Roxy Music.
The collections of these two stores continue to grow, and it's great to know that places with this side of Western music exist to counter all the Scorpions and Britney Spears being sold elsewhere.
Most of the collections were acquired from Westerners previously living in and around Maadi. But one can request or order a record, and it can be acquired.
Morgana and Flex are located on Road 9, Maadi, next to McDonalds.
Records come at a "friendly" Maadi price between LE75–LE150.
Scattered around the city
The above list only mentions the best findings. However, there are many, many antique and nostalgia stores around Cairo that stock a handful of records in almost every middle-class district (Downtown, Heliopolis, Zamalek and Garden City).
Attaba Square is a particularly interesting place to shop for vinyl records. One can run the music shop gauntlet down Azhar Street all the way to Khan al-Khalili, where many music stores line the street.
The list also highlights some of the most interesting finds. But there are dozens of amazing French and Italian records from the 1960s to be found, as well as many classical music performances and operas live from the old, burned-down opera house and unknown singles from obscure and forgotten local artists.
Shopping for vinyl records in Cairo is like reliving the capital's history over the past 100 years. In addition to the wonderful records, one picks up stories from the shopkeepers about what life was like decades ago. The record vendors are hardcore music aficionados, collectors and traders at heart, and are willing to trade records with you.