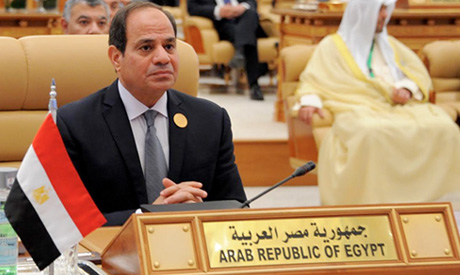 President Abdel-Fattah al Sisi said on Sunday that eradicating terrorism means putting an end to terrorists' sources of financial and ideological support.
"There are countries involved in financing terrorist organizations and providing them with safe havens," Sisi said at the Arab Islamic American Conference in Riyadh, which was attended by various leaders from Islamic countries, US President Donald Trump and other US officials.
Sisi added that some countries refuse to share information they have about terrorist activity "even with Interpol".
All terrorist groups should be targeted without discrimination, the President said, describing terrorist organizations "as cancerous cells connected by various links throughout the world".
He added that a comprehensive confrontation of terrorism means confronting countries "that supply, train, arm and provide political and ideological cover to terrorists".
"Today's meeting reflects our determination to renew the partnership of Arab and Islamic countries and the United States. By establishing the principle importance of the values of tolerance, accepting one another and respecting the right to be different, we can prove that the illusion of a 'clash of civilizations' is just a fallacy," he said.
"Egypt has been involved in a ferocious war against terrorist groups in North Sinai. We are achieving good results in eradicating terrorism while safeguarding the lives of civilians," the President added
He also explained that over the past couple of years, Egypt and Al-Azhar have been undertaking efforts to renew the country's religious discourse with the aim of bringing about an intellectual revolution that reflects the peaceful essence of Islam.
Sisi also stressed the importance of ensuring stability for state institutions in the Arab world as a means of fighting terrorism.
"Over the past few years, Egypt has provided a historic model in reclaiming the identity of its national state through the actualization of overwhelming popular will, which rejected the hijacking of the deep-rooted Egyptian state."
He praised President Trump's vision and decisive policies in facing terrorism. "I have no doubt that the United States' contribution will bring about the qualitative change needed in the fight against terrorism."
The exchange wasn't observed by video cameras in the room, but was captured in an audio recording, CNN said.
Sisi concluded by asking the summit for a timeframe for presenting a comprehensive strategy to "eradicate terrorism at its roots".
Trump said during the summit that he hopes to visit Cairo soon and praised Sisi during a meeting between the two in Saudi Arabia. The CNN reported that moments after Sisi complimented President Donald Trump on his "unique personality that is capable of doing the impossible," Trump exchanged pleasantries back, praising Sisi's shoes.
"We've really been through a lot together positively," said Trump, who is on his first foreign visit since taking office.
"I will get to Egypt. We will absolutely be putting that on the list very soon," he said. Sisi had "done a tremendous job under trying circumstances".
Trump also thanked Sisi for his help with the release of Egyptian-American charity worker Aya Hegazy last month. Trump and his aides had engaged in behind-the-scenes diplomatic efforts to gain her freedom after attempts by the previous Obama administration failed.