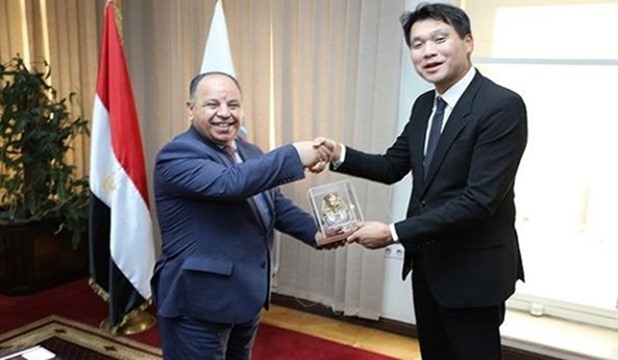 Finance Minister Mohamed Maait voiced deep appreciation to the great efforts exerted by South Korean Ambassador in Cairo Hong Jin-Wook during his term of duty.
The ambassador contributed to furthering bilateral cooperation in order to realize the optimal use of development and investment opportunities, he said, highlighting the rise in the volume of trade exchange between Egypt and Korea.
He made the remarks on Tuesday during his meeting with the ambassador whose term of during is about to end.
He said the Korean president's visit to Egypt crowned the efforts exerted to further bilateral cooperation in various domains.
Maait said Egypt is interested in cooperating with the new Korean ambassador for the best interests of both countries.
He said Egypt is looking forward to boosting Korean investments in Egypt during the coming period, referring to bilateral cooperation in the fields of electric vehicle industry, communications and IT, digitalization, tourism, infrastructure and energy.
Meanwhile, the Korean ambassador expressed happiness for serving in Egypt which has a great civilization and play a strategic role in maintaining security and economic stability in the region.
He also lauded the role played by the Finance Ministry in enhancing cooperation and solving any problems facing Korean companies.
He stressed keenness on visiting Egypt in the coming period, voicing hope that more Korean investments will be injected into Egypt in various domains.