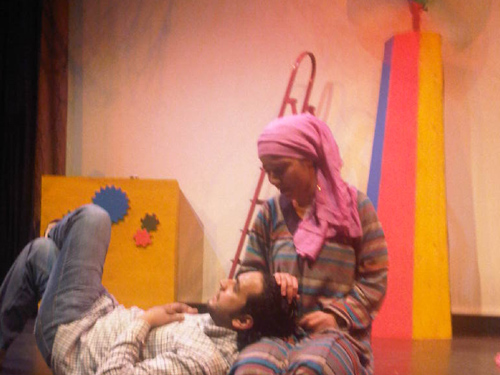 This piece was written for Egypt Independent's final weekly print edition, which was banned from going to press. We offer you our 50th and final edition here.
From street art to a kitsch 1970s film, books that capture the zeitgeist to a striking bio-art exhibit, our writers share some of their cultural highlights.
'Ghost Factory' by Ghaith El-Lawzi
Written by Steven Viney
Ghaith El-Lawzi's 2005 semi-autobiographical novel, "Ghost Factory," was the first modern Egyptian book — also published in English — that really struck a nerve deep within me.
The novel reflects a zeitgeist of nihilism for some of those who came of age under former President Hosni Mubarak in the mid- to late 1990s. Hence, it was instantly easy to relate to.
Aged 20 when I first read the book, it became my personal version of Albert Camus' "The Outsider," personalized simply because it took place in Cairo and featured a soundtrack of popular songs of the time, as well as a cast of shady, hopeless characters that bore strong resemblances to many of the people I met growing up.
Though the book's writing style now seems a little youthful for my taste, a few of its themes are still as pertinent as ever and offer a great archive, albeit semi-fictional, of what life under Mubarak was like.
The young characters in the novel are either born wealthy or end up in nowhere jobs, often strung out on drugs, and sometimes dying unnecessarily young — something I witnessed over and over as a youth in Cairo, either due to car crashes or some idiosyncratic occurrence.
The book also unveils a much darker side of Mubarak's regime, featuring villa parties where ministers engage in extreme debauchery with young women, often forcibly. It shone light on the city's huge hotel prostitution industry, the drug business fueled by the government, and all sorts of corruption and pitiful behavior within the lifestyles of the wealthier classes.
It was the first time I had seen the Cairo I knew written about so blatantly.
For anyone who now longs for the Mubarak days, I recommend reading this book to understand exactly what it was like to have been a 20-year- old under Mubarak in 1999, let alone in 2010, when things had reportedly become far worse.
The Alexandria street art gallery
Written by Maha ElNabawi
Shortly after Mubarak's ouster in February 2011, I found myself in the seaside town of Alexandria on the hunt for cultural stories. Around that time, an interesting new street art project was taking shape along the once-barren walls of the Lycee al-Horreya Theater.
Organized by the Goethe-Institut Alexandria and local curator Fatma Hendewy, a team of local and foreign street artists worked day and night to transform the weathered walls into a kaleidoscope of color as they each painted massive murals spreading several meters wide.
The two-part project featured commissioned works by Alexandria-based artists, including Aya Tarek and Amr Ali, in addition to fantastic murals by some of Europe's leading artists, including Mercedes De Gary (Spain), Ma'Claim (Germany), and MICKRY 3 and TIKA (Switzerland).
In this magnificent outdoor public gallery of sorts, with murals up to 4 meters wide, each piece is perfectly packed with symbolism, high-quality aesthetics and electrifyingly vibrant colors, which all culminate in a myriad of stunning expression.
For those lowbrow art lovers who find themselves dazed, confused, and awestruck by the ever-changing murals on Mohamed Mahmoud Street in downtown Cairo, it is highly recommended that you take a little trip to Alexandria to view this entirely fresh body of street art and colorful expression.
After visiting the outdoor gallery again a few weeks ago, I noticed that several new pieces have emerged in the time since the original murals were magically painted. The gallery continues to spread, organically, through the tattered graffiti of younger generations reminding us again that walls do talk when people have something to say.
'The Black Dot' by Waleed Taher
Written by Jenifer Evans
Waleed Taher's square children's book "The Black Dot" is about some children who wake up one day to find a huge black dot in their playing field. Upset, they try to guess what it could be, then try to get rid of it, then try to utilize it.
The whimsical drawings of stick people are washed out, smudgy colors that look like they could have been made by a child. They are basic, uneven, elaborate, out of control and funny.
This exuberant childishness is often evident in Taher's work. In "The Black Dot," no grownups appear in the story at all — the children are completely capable of sorting out the problem themselves.
Although it was published in 2010, it seems to have revolutionary connotations.
In the face of the mysterious dot, the group comes together, bounces around ideas to figure out what to do with the thing that is taking up their space, disagrees and gets nowhere, but ultimately triumphs through perseverance and creativity. It is hard not to see it as an allegorical dot.
There is a fair bit of text alongside the illustrations, but it's poetic and fun to read. Also, it's not too difficult to read if you're not great at Arabic.
'Al-Nadaha' by Hussein Kamal
Written by Ali Abdel Mohsen
It may not be a great film, but as far as I'm concerned, viewing experiences are rarely as rewarding as when you're watching "Al-Nadaha" (1975). Although its onscreen English titles read "For Whom the Wind Calls," a more direct and accurate translation would simply be "The Siren." True to its name, the film is a hypnotic and seductive work.
Dissatisfied with village life, young Fatheya yearns to "see the world," by which she means "Egypt," which is how the residents of her remote village refer to the distant megapolis that is Cairo.
It's not an uncommon desire; villagers are often driven to insanity by the call of the siren and, when it grips Fatheya, the only solution is to quickly marry her off to her former neighbor Hamed, now a doorman in the big city.
Although based on a novella by acclaimed author Youssef Idris, the film's storyline is almost secondary — you watch "Al-Nadaha" like you live a dream. Calmly melodramatic, repetitive in its theme music, kitschy in its depiction of "progress" and populated by stereotypes and the world's sleaziest scientist, the film isn't as concerned with realism as it is with depicting the world through the eyes of the bewildered Fatheya, who spends her first night in her husband's Cairo room experimenting incredulously with the light switch.
Watch it once the way it was meant to be watched, then put the sound off, pick some good music, turn the colors all the way up and fall into it.
'Ioconography' on the Sixth Floor
Written by Mai Elwakil
All the art projects shown on "The Sixth Floor" should be picks. As with the Hal Badeel (Alternative Solution) arts festival held earlier this month, the artists, along with the curator, collaborated on every possible detail to bring the group show to life.
They cleaned and fixed the creaking walls of the old Viennoise Hotel, and took on shifts to welcome the many visitors. Throughout the week, you'd find visitors and artists hanging out and chatting. And, of course, the artists produced their projects. All 15 works were fully developed projects, rather than a random response to a curator's invite. I choose to highlight one that swept me off my feet.
At the far end of the flat hosting the exhibit, a dimly lit room hosted the work of Heba El Aziz, "Ioconography." Its aesthetic simplicity was heartening. Circular glass lenses hung on the wall. In each lay a photograph of an Egyptian icon, for better or for worse. From comedian Adel Imam and the late songstress Om Kalthoum to King Farouk and even Gamal Mubarak, but also the late Pope Shenouda III, Mubarak-era Prime Minister Ahmed Shafiq and journalist Ibrahim Eissa.
Each photo gradually decolorized, taking on different hues of greens, blues, grays and an occasional spray of red. As I kept going back to take yet another look, Aziz's icons continued to transform.
Aziz is one of the very few artists working with bio-art in Egypt. She is a bio-painter, who uses glass plates and photographs as her canvas, and bacteria she carefully cultures as her color palette.
Like all forms of life, that of the icons included, the bacteria changes over time. It is a live temporal art and watching it develop, I developed some attachment to it, fascinated, as it captured a cycle of life.