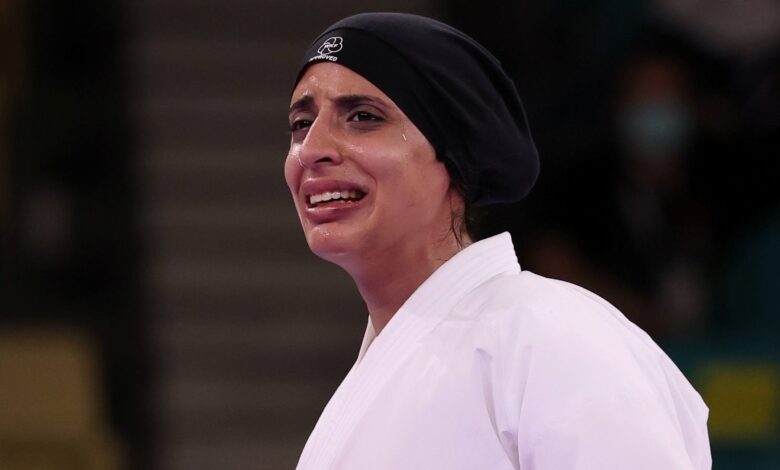 Egypt's Feryal Abdelaziz won gold in the women's kumite karate +61kg event at Olympic Games on Saturday.
This is the first gold medal for Egypt in the Tokyo Games, and the second in karate.
Giana Farouk took bronze in the -61kg kumite on Friday.
Egyptian President Abdel Fattah al-Sisi congratulated Abdelaziz on the achievement.
On his official Facebook page, the president wrote that her winning the gold medal in karate is "a new achievement that calls for pride and confirms the Egyptians' ability to make achievements in all fields… Proud of my daughter, Feryal, and of every Egyptian who raises Egypt's name high in international forums."
Abdelaziz won over Irina Zaretska of Azerbaijan.
Tensions ran high for Zaretska as the reining -68kg kumite European champion tried to find the right combination to clinch the gold medal, but it was too late as her spinning kick came after time was called.
Her 22-year-old Egyptian opponent fell to the tatami as she realized she had been crowned the inaugural Olympic champion in the women's +61kg kumite, the official website of Tokyo Games reported.
The bronze went to China's GONG Li and Kazakhstan's Sofya Berultseva.
Egypt won a sliver medal in the modern pentathlon by Ahmed al-Gendy during this year's Olympic Games and four bronze medals through Hedaya Malak and Saif Eissa, players of the national taekwondo team, Mohamed Ibrahim Kisho, national wrestling player, and Giana Farouk, player of the national karate team.
Egypt's delegation in Tokyo is the largest it has ever been in history, with 137 athletes competing in 23 different sports.