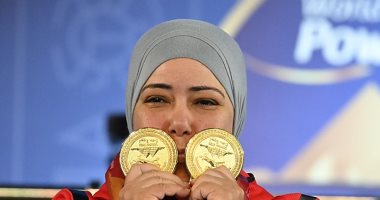 Fatma Omar, a player of the Egyptian Paralympic weightlifting team, won eight gold medals in the 67kg weight category during the African Open Paralympic Weightlifting Championships.
The tournament is hosted by Egypt from October 27-31 at Hassan Mostafa Hall in the 6th of October City and organized by the Egyptian Paralympic Committee headed by Hossam Eddin Mostafa.
Omar ranked first after lifting 123 kg, followed by Nigerian player Lucy Ejike who lifted 122 kg, and then Egyptian Gehan Abdel-Aziz Gharib after lifting 107 kg.
The Egyptian champion made her illness a source of motivation and chose to represent Egypt in international forums, as she topped the world rankings for weightlifting for several years, and won four golds in four consecutive Paralympic sessions.
She also won a silver medal in Rio de Janeiro, as well as a silver in her sixth participation in the Paralympic Games.
Biography of a champion
Omar was born in 1973, and began practicing weightlifting in 1994, and won first place in her first participation in the national championship.
Omar participated for the first time in the European Open in 1997, and won a gold medal.
The Egyptian weightlifter won four golds in four consecutive Paralympic Games, Sydney 2000, Athens 2004, Beijing 2008, London 2012, and she also won a silver in the Rio 2016 Paralympics.
She was chosen as the best player in the IPC records in 2012, and is the world record holder for the weight of 56 kg, having lifted the weight of 142 kg.
Omar topped the 2016 world rankings for 61kg, but her ranking slipped to second place as a result of her training injury.
The gold medalist won the 2016 Weightlifting World Cup in Malaysia, lifting 216 kg.
She won 15 medals in various world championships, and was named the "best Paralympic player in the world" more than once.
Omar won silver at the FAZZA International Athletics Competition, which qualified her to reserve her place in the Tokyo 2020 Paralympics.