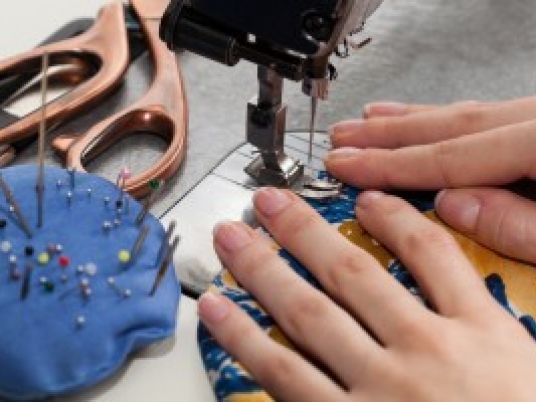 It's in the refugee camps and orphanages of Lebanon that Creative Space Beirut, a fashion school, looks for emerging talent for its three-year program taught by top Lebanese and international designers.
Sarah Hermez, 28, founder and director of Creative Space, chooses ten underprivileged students from different backgrounds to join her school in the art district of east Beirut.
They hope to join the success story of Lebanon as the fashion center of the Middle East and home to designers making dresses worn by Hollywood stars on the red carpet.
U.S. singer Jennifer Lopez wore a silver dress by Zuhair Murad at the Golden Globes last month, attention-grabbing with a thigh-high slit. British actor Kate Beckinsale wore an eye-catching gray Elie Saab dress to the same event.
At Creative Space, students sketch ideas in books on large white tables, surrounded by tailor's dummies and spools of different colored thread.
Hermez co-founded the school with her New York-based former professor Caroline Simonelli and says it is for "people who are very talented, very passionate about design, but would never have had an opportunity to pursue design."
When she opened the school in 2011, she traveled around Lebanon, a small Mediterranean country, searching for talent in refugee camps, orphanages, poor neighborhoods and women's centers. Students then applied for a place. New students come in when slots open up.
Some students focus on evening wear but many make the school's ready-to-wear line, including trousers and kimonos. They sell for between $100 and $200 a piece, with high-end fabrics donated by designers that include Donna Karan.
All profits go back into the school, which also receives donations and partners with shops to raise funds.
Creative Space has only two graduates so far. One, a Palestinian refugee from Ain el-Helweh camp in southern Lebanon, is now doing work for a design house in Lebanon and teaching her skills to others for a charity.
Ahmad Amer, a 21-year-old from south Lebanon, started the program two months ago. He painted from an early age and wanted to study fashion but could not afford the fees.
"It would have stayed as a hobby and I would have worked on it on a personal level only," he said, showing his sketch book filled with drawings of women in veils.
"These three years will make a big difference in my life, I have a place to work in and I have material to use," he said.
Hermez, who graduated from the Parsons School of Fashion in New York, said that starting out with as little as her students used to be the norm in the fashion industry, and that design became a vocation for the elite only in the last decade.
"If you look back into any famous designer, most of them have come from backgrounds where they had to work. They had to work and build themselves up."