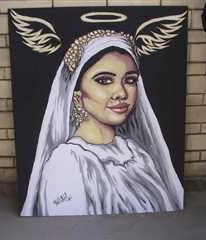 The family of the slain Mansoura University student Naira Ashraf said is taking legal procedures against those involved in a video leaked for her corpse from the morgue.
The family of the victim decided to take official legal measures against the officials of the Mansoura International Hospital, in an effort to open an urgent investigation and identify the perpetrator of the leak of a video that violates the sanctity of death for the late student.
The family demanded to identify those behind the leaked video through social media sites after the users of those sites condemned the video and accused emergency workers and doctors and the morgue at Mansoura International Hospital of being involved in filming this video.
Ashraf Abdel-Qader, the father of the victim, stated that he contacted lawyer Khaled Abdel-Rahman and authorized him to take legal measures against the one who leaked that video.
Shorouk Ashraf, the sister of the victim, said on her Facebook page: "We have taken legal measures… the most difficult scene is seeing our sister in the morgue."
The family explained that publishing their daughter's video shocked the family members when they saw the scenes of stab wounds on her body.
The attorney of the family lawyer Khaled Abdel Rahman, had announced that he had filed an official complaint against the Dakahlia Health Directorate.
He also submitted a report to the Public Prosecution to determine the identity of the perpetrator of the leak of the mortuary video of the victim and to take legal measures against this leak in order to preserve the sanctity of the dead.
The circulating video clip of Naira Ashraf inside the mortuary sparked outrage on social media.
A user wrote on his Twitter account: "If you are against or with her cause, please do not participate in publishing any video that offends her."
Another expressed his anger: "Why are there people who are determined to distort the image of someone who has died? I mean, the girl was killed in the sight and hearing of all people, and we watched the video and were affected, why is someone leaking videos from the morgue and why is someone leaking personal videos of the girl!! What will you benefit from?!"