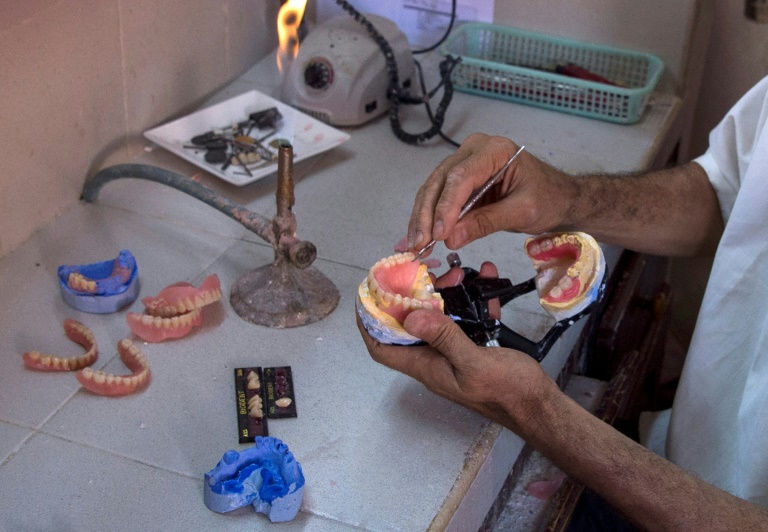 A smart white coat is no proof of being a qualified medical practitioner in Morocco, where fake dentists and other "health professionals" thrive on poverty, sometimes with wretched consequences.
"It's all a question of know-how. I inherited mine from my father," Hamid says proudly, sporting a thin moustache and teeth yellowed by thick deposits of tartar.
Hamid brandishes his pincers at the heart of the joyous racket of the Sunday market of Beni Yakhlef, a rural town about 30 kilometres (20 miles) from the seaside metropolis of Casablanca.
About a dozen patients wait their turn under an ancient, ragged sunshade, seated on plastic stools bearing the logo of a renowned brand of soft drink.
Hamid cleanses the pincers with bleach, then inserts them into the mouth of a woman wearing a jellaba. In one skilled and unexpected tug, he wrenches out a decayed stub.
The woman grimaces and spits out blood. Hamid's 10-year-old son hastens to fetch her cotton wool and aspirin from the boot of an old German sedan car, which serves as the medical cabinet for a mobile dentist's family.
– From father to grandson –
"My father practised this trade, my son is learning how, but it's not easy," Hamid says, displaying a small wooden box containing several hundred extracted teeth, the measure of his experience acquired with the years.
"Thanks be to God, many people come to us. We treat poor people. We'll pull a tooth for 40 or 50 dirhams (up to 4.5 euros, $5.30), compared with at least 200 charged by a doctor," he adds.
In the north African country, about 3,500 phony "dentists" practise illegally in surgeries in towns as well as rural areas, according to official health ministry statistics.
"I'm sorry for people who still allow their teeth to be pulled," breathes Lahcen Brighet, a dental surgeon based in Casablanca and consultant for the National Order of Dental Doctors.
The illegal work is done mainly by "dental prosthetists who call themselves dentists" and by former "assistants who learned the essentials of the profession on the job or cleaning ladies who worked in dentists' surgeries," Brighet explains.
These interlopers carry out all sorts of operations, from extracting and removing teeth to deadening nerves, but their patients risk bad problems, the consultant adds.
– Deadly danger –
"This phenomenon should not rightly exist in an emerging country like Morocco," Brighet argues, noting the dangers of infection — including tuberculosis and the transmission of hepatitis B or C — and of a fractured jaw, "even death in the most serious cases."
A 12-year-old boy died at Oued Laou in northern Morocco "after an acute infection of bacterial origin in the blood, followed by a haemorrhage, after having a tooth removed by a dental prosthetist passing himself off as a dentist," the National Order of Dental Doctors reported late in August.
"Dental medicine in Morocco follows standards, laws, rules. Charlatans observe no rules. It's like putting on a black gown without being a lawyer and going to plead before the judge," Brighet warns.
Moroccan law is clear. Nobody is allowed to practise the profession unless they have a diploma and formal authorisation to practise and are listed on the registry of the order. "But the authorities close their eyes. They know and do nothing," he charges.
In their own defence, unqualified physicians argue that they enjoy "historical legitimacy" and accuse dentists of wanting to "grab the whole cake".
Abdelfateh Benamr, a prosthetist working in the old Arab quarter of the capital, Rabat, says that he "learnt the profession from his father".
Benamr stresses that he began practising in 1978, "before the opening of the first faculty of dental medicine (in Casablanca in 1981) and the coming of the dentists.
"We were not very many before, but today there are 30,000 prosthetists… That's a big problem."
– 'Third sector' –
Rachid Choukri, president of the Federation of Private General Practitioners in Morocco, asserts that "charlatans swarm in the cities. They are well established, they treat many diseases, hand out prescriptions and ask for medical tests."
"God knows what products they give people. It's dramatic!" he says.
"They have had no training. Or when they did, it wasn't to become a doctor. Dieticians who claim to be doctors, midwives who set themselves up as gynaecologist-obstetrician… This is what we call the third sector. There's the public sector, the private sector and the informal sector."
Statistics concerning the illegal practitioners are incomplete since the informal sector is difficult to quantify, but qualified doctors say thousands of people are engaged in sharp practice.
"The state is aware of this, but does nothing to stop it," Choukri says. "Because they would have to be found jobs, new roles."
The ministry of health publicly condemns the activities of the fraudsters. But when asked for comment by AFP, its staff gave no details of steps taken or planned to crack down.