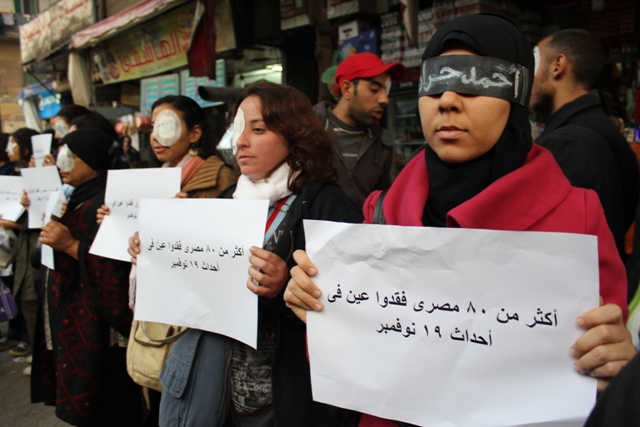 Equipped with eye patches, dozens gathered in front of the Qasr al-Aini Hospital on Thursday, before heading to Qasr al-Nil Bridge in solidarity with those who lost their eyes during the revolution.
The march was organized by "MeyaSilmeya," a group of unnamed activists who prefer to remain anonymous. Their objective is to find creative, peaceful ways of protesting around Egypt in support of the revolution's values and goals.
The group had been calling for people in Egypt and around the world to wear an eye patch on Thursday in solidarity with more than 80 protesters who lost their eyes.
Among the protesters was the 23 year-old Rowan al-Shimi. "We want to put ourselves in their shoes, and feel what they feel," she said.
"I've been wearing the eye patch for a couple of hours now and I already feel dizzy and very uncomfortable. I even find trouble crossing the street. I hear I forget, I see I remember, I do I understand."
The 54 year-old Nemaat, who lives on Fahmy Street and can see the Ministry of Interior from her balcony, heard about the march from Twitter and decided to participate because, she said, "the government is lying."
"They say that they are not using violence against protesters, but I've seen them with my own eyes. What do they want from our children, why do they intend to kill and disable them?"
The march began with a chant accompanied by the words, "the military has taken my eye."
Their numbers exceeded hundreds by the time they reached Tahrir Square, and their chants started to increase in volume. "Down, down with military rule, the people demand the ouster of the marshal," they sung out.
When they arrived to their destination, Qasr al-Nil Bridge, protesters stood silently in a straight line while holding signs. One asked: "How much is your eye?" Another read: "More than 80 eyes were lost because of violence, we won't forget."
The march elicited varied reactions from passersby. The 28 year-old Magdy Mohamed, an engineer, thought that the march was "uncivilized," explaining that foreign media outlets shouldn't be exposing Egypt's problems to the world. "We should be solving our problems by ourselves," he said.
However, Nabil Salama, 45, defended the march. "We have to do that in order to remind people," he said.
"We also have to find them solutions to their problems. Those people have sacrificed their eyes for Egypt."