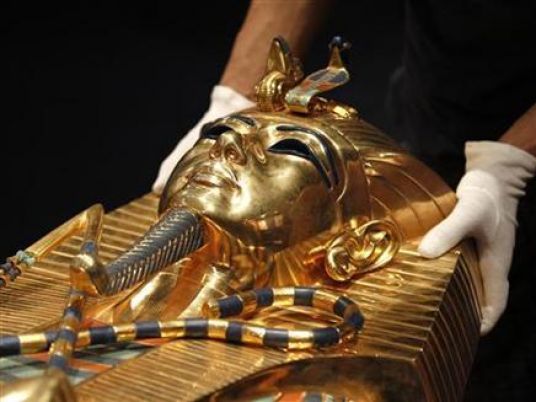 The International conference on Pharaoh King Tutankhamun was held in Cairo earlier this week to explore options for the safe transportation of King King Tutankhamun (Tut) from the Egyptian museum in downtown Cairo to the new Grand Museum being built close to the Giza Pyramids.
The conference has been taking place every year in Egypt's capital since 2015, where antiquities and archaeology experts from Egypt, France, Germany, Switzerland, Denmark and Japan meet to discuss how best to preserve the ancient artifacts and to facilitate their transportations.
Head of the Ancient Egyptian Antiquities Mahmoud Afifi said that King Tut's throne, bed, and chests will all be transported to the new facility.
He added that the annual conference is important, as it sheds light on new research and studies related to one of Egypt's most significant and popular Pharaoh kings. The meetings also discussed methods to display human remains that were discovered in King Tut's tomb.
"Human remains of King Tut were examined and matched with the DNA results of the rest of his family and daughter. The results were also matched with other DNA results from other human remains that were found in this era," the General Supervisor of the New Grand Egyptian Museum Tarek Tawfik said in a press statement.
There are plans for the restoration of King Tut's funerary furniture and other belongings in preparation for display at the opening of the new Grand Egyptian Museum (GEM). The collection will be displayed in two halls at the new facility.
The halls cover 7,000 square meters, and the facility is scheduled to open at the end of 2017. The date for transferring the King Tut collection has not yet been announced.
"It's a very big challenge to move a collection, particularly of such importance," one of the participants, German Egyptologist Gabrielle Pieke, told the Associated Press.
The conference was organized by Egypt's Ministry of Antiquities and will include a series of scientific lectures on the history of King Tut and his tomb. The boy king died when he was only 19 years old and ruled Egypt more than 3,000 years ago.
The tomb was discovered in 1922 in the southern city of Luxor, Wadi El Melook.