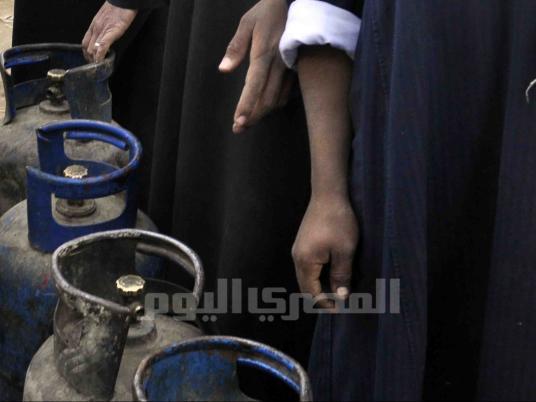 The set is spare and other-worldly, consisting of a space-age silver backdrop and a variety of everyday objects; the movements are deliberately unvarnished. In the description, Egyptian choreographer Mohamed Shafik and Netherlands-based choreographers Rita Vilhena and Thomas Proksch wrote that "We are not from outer space" is a piece "about us being human."
Theirs is not a self-flattering view of humanity, with much of the performance depicting human failings, starting with the image of Vilhena binding Prosksch in rope, gagging him and dragging him across the floor. Those who are looking for smooth and comfortable images will probably not enjoy the piece, in which the dancers throw themselves and each other around with a striking lack of caution, shake and sputter and at one point, and spit actual milk at each other. But the Downtown Contemporary Arts Festival's second contemporary dance offering is a thought-provoking piece of experimental dance theater.
While at points, particularly in the beginning of the piece, these kinds of gestures seem forced and inauthentic — for example, this reviewer has never been a fan of extended fake weeping, especially not when it feels so unconvincing — as the piece develops they prove there is substance behind it and filter the seriousness with a dose of humor. Proksch, for example, got some good laughs out of a brilliant piece of mime work that looks like something out of Roadrunner cartoon, or a parody of masculine aggression.
Vilhena is the clear star of the show, leading some of the most powerful scenes in the whole performance. Vilhena is a versatile and charismatic performer, modulating her voice and body with incredible dexterity, able to convincingly carry a tricky scene like the one in which she directly addresses members of the audience by name, and coyly offers to sing us a song — which she does, with verve, in no language anyone seems to understand. It is also her voice, in a disembodied recording, that the audience hears reading a moving letter to a father about love and trust as she seems to wrestle with her demons on the floor.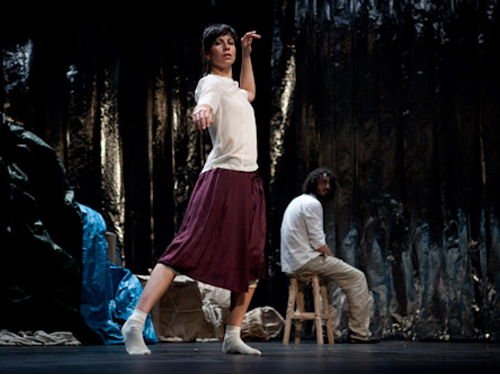 In the description the artists' provided, they say that they are not interested in expressing that which makes them European or Egyptian, and that politics and economics "are just tools we use to manage who we are," but in truth the politics and cultural ties are there. Many of the cultural references are American or European in origin, from the retro vision of aliens with silver jackets and mod hair to the surprise appearance of a classic Motown song.
Likewise, politics are certainly not absent from Vilhena's questions to the audience, nor from her recorded words, in which she says that you are fighting and I am sitting at home, perhaps I will be with you tomorrow.
The text is unexpectedly direct, and quite effective. "Art is a fight, loving you is a fight," she says. At a couple of points in the piece, she and Shafik hint at the revolutionary gesture of a raised fist. The piece does address politics, but with a fairly light touch that feels right. In the end, it is as they said — a piece about being human.
"We are not from outer space," is a demanding piece, but ultimately a very rich one. There is no sugar-coating on it, but it is a fairly honest self-examination that leaves the audience feeling somehow lighter, clearer.
Vilhena, Shafik and Proksch will perform "We are not from outer space" a second night Monday, 2 April at 9 pm in the Falaki Theater.