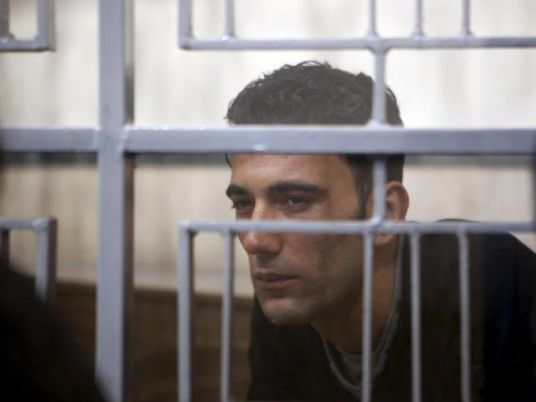 The Tunisian man accused of piloting a migrant boat that sank off
Libya
, killing more than 700 people, is himself a migrant who was forced at gunpoint to captain the ship because of his experience as a fisherman, his brother said on Saturday.
Italian authorities say the man named in court as Mohammed Ali Malek, 27, was in charge of the heavily overloaded fishing boat that capsized shortly before midnight on April 18 with hundreds of African and Bangladeshi migrants locked below deck.
The man's brother told Reuters the Tunisian's real name was Nourredine Mahjoub and he had first travelled clandestinely to Europe five years ago, spending time in Italy and
France
before being deported. He had recently returned to Libya seeking work.
"My brother was recruited by Libyans to work in a cafe in Libya a few weeks ago, but afterwards he was forced under threat by smugglers to pilot the voyage because he knows a little about the sea and worked with our father fishing," the brother, Makrem Mahjoub, said by telephone.
He said his brother had called from a Libyan number a few days earlier to say he had been threatened by men with Kalashnikovs and ordered to pilot the ship.
"They took him to the boat. When he called, he was in shock and crying."
The account could not be independently verified. Makrem Mahjoub said his brother had given a false identity to Italian authorities, but gave no reason why.
Few survivors
Only 28 people survived the capsize, believed to be the deadliest disaster on the Mediterranean for decades.
It prompted European Union leaders to hold emergency talks on how to deal with the tide of desperate migrants risking their lives to escape war and poverty in Africa, the Middle East and parts of Asia. Many use chaotic Libya, torn between two rival governments, as the starting point for the perilous crossing.
Prosecutors say the Tunisian mishandled the 20-meter-long (66-foot) fishing boat and caused it to collide with a Portuguese merchant ship that was coming to its aid. They have requested that he face kidnapping charges in addition to multiple counts of homicide, causing a shipwreck and facilitating clandestine immigration.
An Italian judge on Friday ordered that he should remain in custody. The man's lawyer, Massimo Ferrante, said outside the courtroom: "He says he's a migrant like all the others and he paid his fare to go on the boat."
Makrem Mahjoub said the family comes from the eastern fishing town of Chebba.
"My brother was in
Italy
after a clandestine journey five years ago after leaving from Chebba. He was in Mazara in Italy before he was deported from Lyon in France after two years there," he said.
He said he later returned to the family home, making his living as a fisherman with his father and three other brothers.
The Tunisian showed little emotion on Friday during a preliminary hearing in a court in the Sicilian city of Catania, where he will come face to face with a number of survivors who will be giving testimony.
"When I saw my brother on television in detention in Italy, I really believed he was under the influence of drugs or something like that," Mahjoub said.
"The ones who are responsible are the recruiters and the smugglers. But him, he is just another victim of lawless Libya."