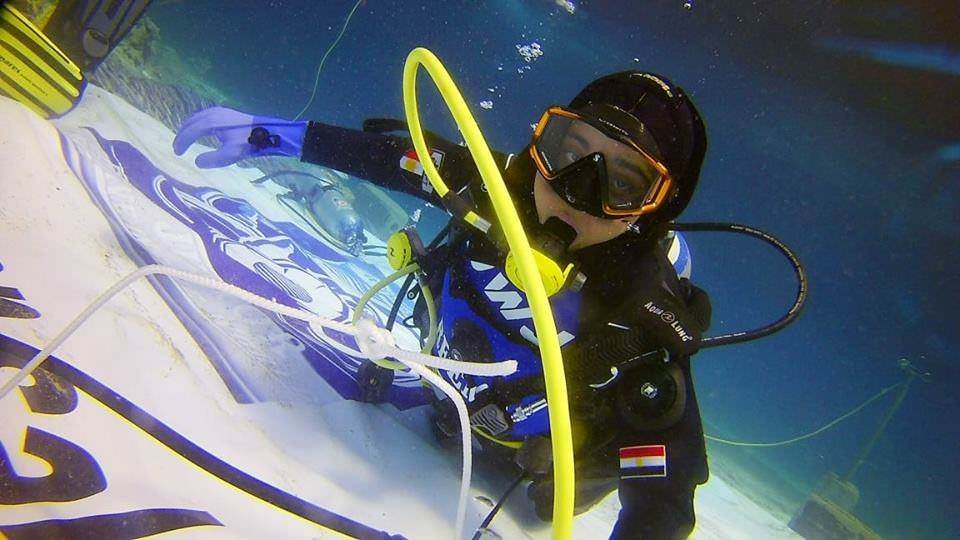 The father of Egyptian Reem Ashraf, the 14 year-old girl who achieved the world's longest open saltwater scuba dive in October, said he plans to sue Guinness Middle East for allegedly orchestrating a sham to take his money, with no actual plans to include his daughter in their world records.
The father, Ashraf Fawzi, complained that after he and his daughter were encouraged through a long, expensive application process, Guinness unexpectedly disqualified his daughter based on her age.
"We have already begun legal steps to sue Guinness Middle East," Ashraf Fawzi told Egypt Independent.
The 14 year-old stayed underwater for fifty-five hours, overcoming record holder Cristi Quill,  who achieved 51 hours and 25 minutes in La Jolla Shores in San Diego, California, USA, on 11 July 2015.
Guinness explained its refusal by claiming one must be at least 18 to attempt breaking a record, and accused Fawzi of endangering his daughter's life by leaving her underwater for so long at such a young age. Yet, Fawzi told Egypt Independent that the organization's Middle East office knew of Reem's age from the start, and therefore could only have been after his application payment. "We have lawyers from seven countries other than Egypt who think we can win this case, and are willing to take it pro bono."
The story began when 14-year-old Ashraf registered on Guinness World Record's website back in August, to attempt to break the longest time underwater. "Reem registered an account on Guinness and said her age was 14, but was able to perform the dive due to two years preparation. You know sometimes, physiologically, 14 can overcome 20," Ashraf told EI.
"We explained everything on her account, adding it was her dream. They requested an 800-dollar fee, which we paid. By 6 August, we received an email saying our application has been accepted, pending our ability to provide evidence."
Ashraf then said they received a call the following day from Guinness's office in Emirates, responsible for managing records in the Middle East. "The representative asked me what she would do underwater. I said 'drawing, for one', and he asked me to send him a sample of her drawing. I even suggested she draw 15-20 drawings while underwater, to achieve two records."
Ashraf assured EI that throughout this process, there was not a single reference to Reem's age.
However, by October, Ashraf received another call from the same representative of Guinness Middle East, probing about Reem's age, "When I told him, he asked me for a lot of extra fees, telling me each step would cost 5000 sterlings. His tone changed."
"He told me Guinness had two ways of proving someone broke a record: either sending an invigilator to witness the record break, which would cost me five-to-seven thousand dollars for the last hour of Reem being underwater only, or through the contestant filming the entire thing independently, through a very complicated process. This was not mentioned on the site, which now makes me think this was an attempt of extortion by the regional office, not the international Guinness."
Ashraf opted for the second choice, filming independently. To obtain the equipment, he had to go to the Egyptian marines, as they were the only ones he could think of who had the technology. "They were extremely helpful, and offered not only to film but to attend the entire dive. They even had marine divers alternate underwater, to make sure she was okay."
Ashraf told the Guinness Middle East representative in October that he was able to secure an independent method to film Reem underwater. Accordingly, Reem Ashraf went underwater on 3 October.
On October 4, Ashraf said he received another call from the representative, who this time surprised him, saying Reem had been disqualified from the process, due to her young age.
"His call went against what was on her account, which said 'accepted pending your evidence'. So when I probed him about the contradiction, he said Guinness's earlier reply was an autoreply."
"You have a child on the brink of changing history. Imagine what this would do her."
So Ashraf told the representative that for him to believe this, it would have to be conveyed to his lawyer through the official account of Guinness International office.
"A fourteen year old used to sleeping with her parents is on her second night alone underwater, feeling an accomplishment, and has everyone's support. I only got this call on her second night when she was almost there. This can only mean they didn't expect her to make it, and when they felt she was close, they wanted to fail her."
After completing the dive, Reem opened her account to check on updates, and was shocked to find she had been disqualified. Not only that, but she found she had received an email on 4 October, telling her Guinness had received her evidence, and that it was currently being reviewed.
Yet, "she was still underwater by the fourth", her father told Egypt Independent.
Another followed this email, two minutes later, telling her she had been disqualified. It was then that her father became certain something was wrong, "The headquarters was straightforward until we paid, then they put us in contact with the regional office and they played us."
"Reem's account was on International Guinness. So we also have suspicions that they knew about this. However, we are sending the England office a report of what happened, and we are suing Guinness Middle East. We have seven lawyers from countries other than Egypt who think we can win this case," he concluded.
"When you are a supposedly reputable organization, you cannot just take your word back."
If Ashraf had been accepted into Guinness's world records, she would not have been the first Egyptian to achieve the feat. Gaber Ali holds the record for the most wheel carts done in one minute (67), a feat he achieved in 2015. That year also witnessed Radioactive Egypt breaking the record for the longest line of tables during a Ramadan iftar, spanning 4,303 meters.
Egypt also holds the largest number of Africa Cup of Nations wins in football, with seven in its history, and music legend Amr Diab was recognized by Guinness's World Music Awards as the bestselling Middle-Eastern Artist in 1996, 2001, 2007, and 2013.