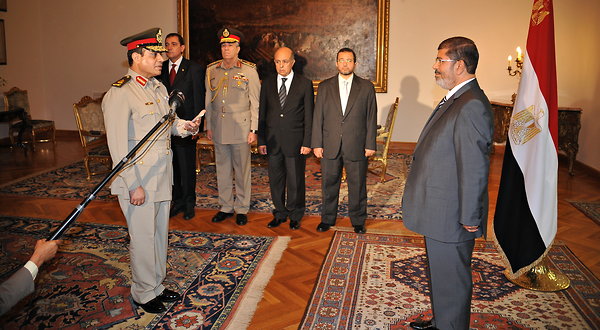 A former member of the Supreme Council of the Armed Forces confirmed reports that Defense Minister Abdel Fattah al-Sisi sent about 70 army generals into retirement, including SCAF members.
According to London-based Asharq Al-Awsat's Monday issue, the SCAF member, who himself was forced into retirement, described that step as a routine one that was known beforehand. He added that most of those pushed into retirement were physicians.
Sisi himself took the helm of the Armed Forces after President Mohamed Morsy sent Field Marshal Hussein Tantawi and former Chief of Staff Sami Anan into retirement last month. The reshuffles were described as a sign of a muted intergenerational conflict within the Armed Forces, which Morsy settled by sidelining the elderly and empowering a new rank that is potentially more sympathetic to the rule of an Islamist president.
The former SCAF member said there are no problems in the army and added that the changes made with the appointment of Sisi went smoothly, without any problems.
"The changes are normal because some people were [elderly]," he said. "Also, most of those forced into retirement had previously been summoned to work in the army after their retirement."
Although no official statements were made about Sisi's move, six SCAF members were among those sent into retirement, including Ismail Etman, who headed the Armed Forces media relations department until he was sacked and replaced by another general in January, and Mohsen al-Fangary, who directed the famous salute to the martyrs of the revolution in one of the earlier SCAF statements, following the sit-in that led to President Hosni Mubarak's ouster.
Fangary later spoke threateningly of protesters, whom he accused of destabilizing order and tarnishing the image of the Armed Forces, following ongoing unrest and revolutionary groups' calls for SCAF to hand over power, saying it mishandled the transition.
The retirements also include, according to local media, Mamdouh Abdel Haq, Sami Diab, Adel Emara and Mokhtar al-Mulla.
According to Al-Masry Al-Youm's military reporter, some assistant defense ministers survived the shuffle, including major generals Mahmoud Nasr, Fouad Abdel Hai and Mamdouh Shahin, the representative of the Armed Forces on the constitution-writing panel.
Concerning Sisi, the SCAF member said, "He's a good man and it is we who chose him," and added that all the changes had been coordinated a lot earlier.
He added that all SCAF members who were sent to retirement were above the legal age for retirement, and denied that the number of generals sent into retirement was 70.
"Those [numbers] include doctors who had retired long ago," he said. "Changing some of them led to further changes."
"I am above 60 and I am no longer a SCAF member, yet I respect Minister Sisi and the new chief of staff. May God help them. So you know, it was we who chose them. Everything that happened had been studied beforehand and the changes do not disappoint us. On the contrary, we want the Armed Forces to be strong and active and to have fresh blood," he said.
Edited translation from Al-Masry Al-Youm