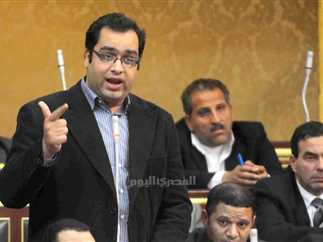 Member of the Presidential Pardon Committee, Tariq al-Khouly, announced pardoning detained ex-MP Ziad al-Alimi.
"President Abdel Fattah al-Sisi issued Presidential Decree 510 of 2022 pardoning Ziad al-Alimi, in response to the calls of parties, political movements, the coordinators of youth parties and politicians, and the Presidential Pardon Committee," Khouly said in a post on his Facebook account.
The prosecution had charged Alimi of cooperating with an illegal group with the aim of suspending of the provisions of the constitution and laws, to prevent state institutions and public authorities from carrying out their work, and to deliberately disseminate false news, information and statements about the political and economic conditions in Egypt with the intent of disturbing public peace and undermining confidence in state institutions.
Members of the Presidential Pardon Committee announced earlier on Friday the release of 35 more detainees in pretrial detention.
Lawyer Tariq al-Awady, a member of the committee, said that since the reactivation of the committee's work on April 26, until Friday, October 21, the committee released 1,040 pretrial detainees, and 12 convicts.
Awady added told Al-Masry Al-Youm that the committee was keen to reintegrate a large number of the released people into society, return them to their work and provide job opportunities for others.