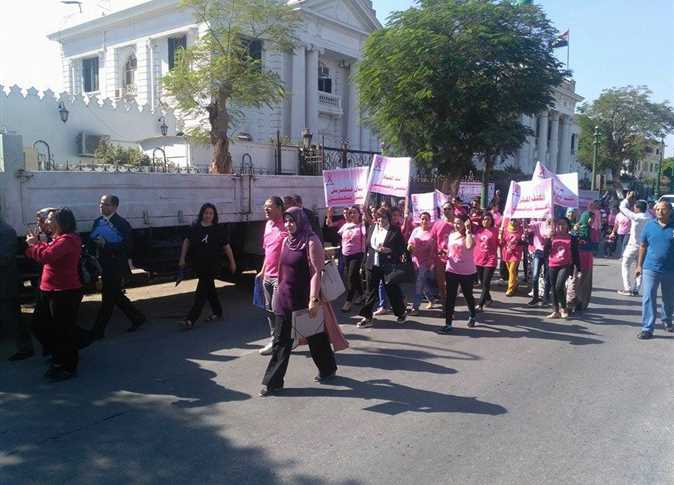 The Evangelical Social Services Organization in Minya, affiliated with the Evangelical Church, organized a march on Tuesday that included dozens of women wearing pink T-shirts in celebration of Breast Cancer Awareness Month (BCAM).
Participants in the march, which began at the Minya governorate headquarters, passing by the Nile Corniche Street and up to the Oncology Center at Minya University Hospital.
They held banners reading "Breast Cancer early detection is the best treatment", "Early detection saves your life", and "Get examined, don't neglect your health or you'll regret".
Participants in the march visited women suffering from breast cancer at the Oncology Center and provided a psychosocial support session for them.
Ahead of the march, a seminar was held at the Minya governorate headquarters, attended by Advisor to the Minister of Health for Radiology and General Supervisor of the National Program for Women's Health, Abeer Maghawry.
Maghawry spoke about breast cancer and methods of detection and prevention. She said that breast cancer is currently the most important tumor affecting women as the rate of infection is 1 in 8 women.
Early detection leads to a full recovery rate between 98 to 100 percent, said Maghawry, recommending that women over 40 years old undergo a mammogram X-ray test once a year for early detection.
Edited Translation from Al-Masry Al-Youm