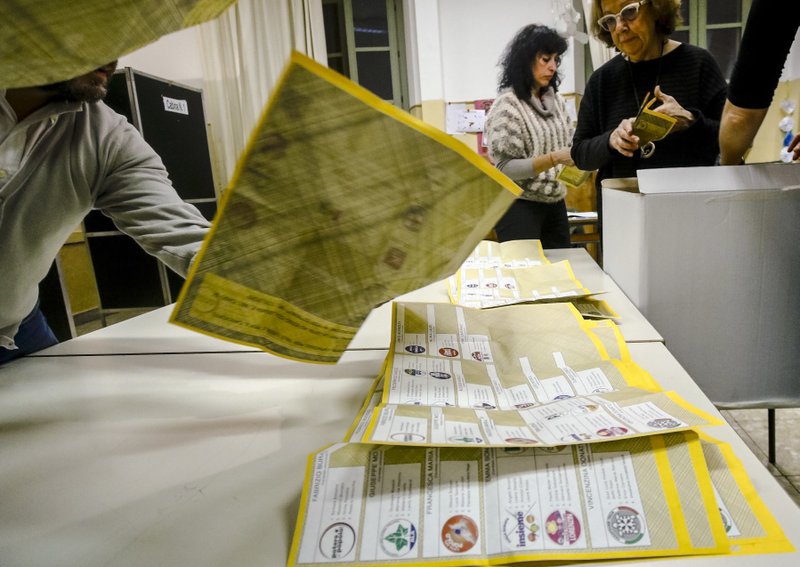 A rival pair of populist and stridently anti-European Union political forces surged in Italy's parliamentary election, but neither gained enough support to govern the country alone, preliminary results showed Monday.
With no faction winning a clear majority, the results confirmed that negotiations to form a new government that can win a confidence vote in Parliament will be fraught.
"Ungovernable Italy" headlined daily newspaper La Stampa as the early numbers rolled in.
Preliminary results released by Italy's interior ministry showed the center-right coalition winning about 37 percent of the parliamentary vote and the 5-Star Movement getting about 31 percent, with the center-left coalition far behind with 23 percent.
In an upset, the partial results showed the right-wing, anti-immigrant and euroskeptic League party of Matteo Salvini surpassing its coalition partner, the establishment Forza Italia party of ex-Premier Silvio Berlusconi. According to the partial results, the League captured around 18 percent of the vote, while Forza Italia had less than 14 percent.
With the anti-establishment 5-Stars the highest vote-getter of any single party, the results confirm the defeat of the two main political forces that have dominated Italian politics for decades — Forza Italia and the center-left — and the surging of populist and right-wing, euroskeptic forces.
"The European Union is having a bad evening," French far-right leader Marine Le Pen tweeted. British far-right, pro-Brexit campaigner Nigel Farage also congratulated the 5-Stars.
The League was particularly strong in the north, its traditional base. In Veneto, where it won 11 percent of the vote in the last elections in 2013, it captured around 48 percent this time around.
The 5-Stars had a remarkably strong showing in the south, which has long been a stronghold of the center-right and Forza Italia.
The partial results showed that the two parties with the most euroskeptic platforms — the 5-Stars and the League — together topped the 50 percent needed to rule Italy. While the two are rivals, that scenario has been seen as the key barometer to watch to gauge Italy's relations with Brussels, and a "nightmare scenario" for the European Union and markets if they were to form an unlikely alliance.
Claudio Borghi of the League told Sky that the election results send a clear message to Brussels.
"I think the will of the Italian people is very clear. The forces in favor of what Europe has done have been redimensioned," Borghi told Sky TG24. "It's a very strong message."
The League's Salvini, who never has held public office in Italy, fed public anger at the EU's inability to help handle hundreds of thousands of migrants who flooded the country in recent years after being rescued while crossing the Mediterranean Sea.
He tweeted "Thanks!" to his supporters as the results came in.