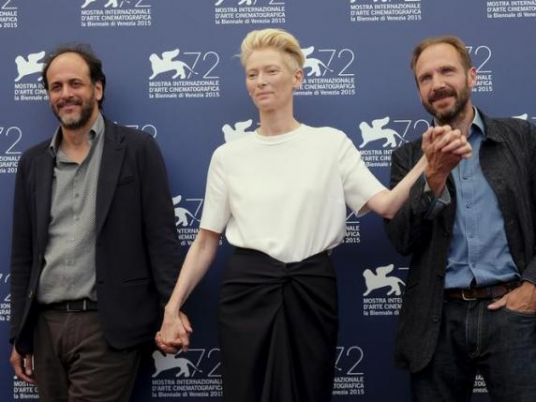 Few people have been left untouched by the plight of desperate refugees trying to make it to Europe, and at the Venice Film Festival, actors and directors alike shared their distress over the crisis, pleading for tolerance and compassion.
Mexican director Alfonso Cuaron, whose "Birdman" won the festival's top Lion d'Or prize last year and best film at the 2015 Oscars, set the stage on the festival's first day when he urged Europe to welcome the people flocking to its shores.
"I'm a Mexican living in Europe and I've always felt welcome," Cuaron, head of the competition jury, said at the opening ceremony on Wednesday.
"I would like that today and in the future that the same welcome would be extended to all migrants."
British actress Tilda Swinton was also there, for the screening of "A Bigger Splash", which has a subplot involving people coming ashore on the Mediterranean island of Pantelleria.
"May I just suggest by the way that we all get out of the habit of calling anybody migrants in this situation?," she said.
"We're dealing with refugees, war refugees."
British director Tom Hooper, whose "The Danish Girl" stars Eddie Redmayne, winner of an Oscar for best actor, as the pioneering transgender woman Lili Elbe, said migrants and refugees, like transgender people, were victims of prejudice.
"I think this film is about inclusion, but it's about the inclusion that's made possible by love," Hooper said.
"We live in a deeply divided world. I mean what's happening on the shores of Europe at the moment, the extraordinary refugee crisis that reaches out to us at the moment, is an appeal to our hearts."
Of all the films shown so far at the 11-day festival, Italian director Luca Guadagnino's "A Bigger Splash", in which Swinton stars along with Ralph Fiennes, Matthias Schoenarts and Dakota Johnson, refers to the crisis the most pointedly.
It is a remake of the 1969 French film "La Piscine" (The Swimming Pool), in which a vicious love quartet was played out on the Cote d'Azur.
Relocated to Pantelleria, the film now incorporates flashes of information from television broadcasts about refugees and immigrants landing on Lampedusa.
It also shows a group of refugees hiding out in the hills of Pantelleria and more who have been caged beside the local police station.
"They're human beings, theoretically," one of the characters says.
Guadagnino said he had moved the setting to the island and introduced the theme of immigration in order to create a sharp contrast with his self-absorbed main characters.
"The idea of four people in a house dealing with each other is potentially inept unless the absorbed force of their own desires is questioned by a clash with reality," Guadagnino said.
"Pantelleria as a sort of border place is really demanding to be understood by these characters and is asking them to pose themselves these ethical questions."