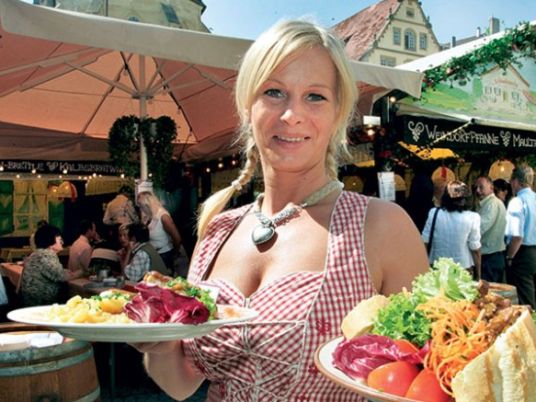 The word "festival" conjures plenty of unwelcome images: knee-deep mud, leaky tents and sinister burgers.
For those sick of the all-inclusive discomfort of Europe's traditional summer music events, there are tastier alternatives.
It's myriad food festivals.
Here's a selection of the best upcoming events where there'll be no need to eat out of a Styrofoam box or listen to second-rate indie bands.
Dorset Seafood Festival (Weymouth, England)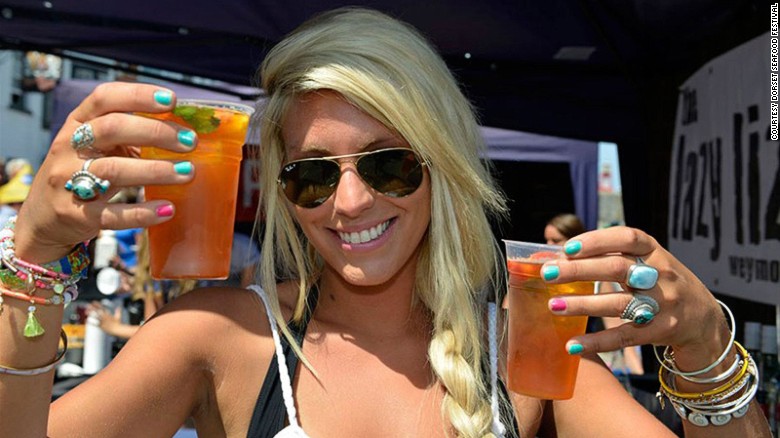 A young woman enjoys fresh drinks at the Dorset Seafood Festival
The waters off of southern England's Dorset coast yield some of the best seafood in the UK.
The region has the restaurants to match, with Hix Oyster and Fish House in Lyme Regis (Cobb Road, Lyme Regis, Dorset; +44 1297 446 910) and the ace Hive Beach Cafe at Burton Bradstock (Beach Road, Burton Bradstock, Near Bridport; +44 1308 897070).
But it's the annual Dorset Seafood Festival, held around Weymouth Harbour, that's the ultimate beacon for foodies in this corner of England.
Dozens of stalls selling crowd-pleasers such as champagne and oysters dot the streets, with talks, demonstrations and tastings.
Dorset Seafood Festival, July 11-12
Matstreif (Oslo, Norway)
Rotten fish and pancakes: Oslo's Matstreif
Nordic cuisine's relentless rise has been well documented.
For those who balk at the thought of blowing their entire vacation budget on a single plate of foraged seaweed, Matstreif is a worthy alternative.
With a wide variety of dishes available at wallet-sparing prices, this event sees more than 200 food stalls open for business in Oslo's City Hall Square.
It's the perfect place to chow on local delicacies and pick up unique treats to take home.
Bold foodies should try rakfisk — rotten fish.
If that sounds a bit much, there's always svele, gorgeous pancakes that originate from western Norway.
Matstreif, September 11-12
Ludlow Food Festival (Ludlow, England)
This enchanting festival takes place in one of the UK's stunning castles.
Ludlow's independent spirit has helped give rise to one of the UK's most renowned food festivals.
Held in the impressive castle keep, traders have descended on this traditional market town in rural Shropshire since 1995.
As well as cooking demonstrations, there's local produce on sale and an ale trail for those looking to drink the best booze from the England-Wales borderlands.
Saturday sees the renowned sausage trail take place, featuring local butchers' creations rated on a one-to-10 scale.
Ludlow Food Festival, September 11-13
Copenhagen Cooking (Copenhagen, Denmark)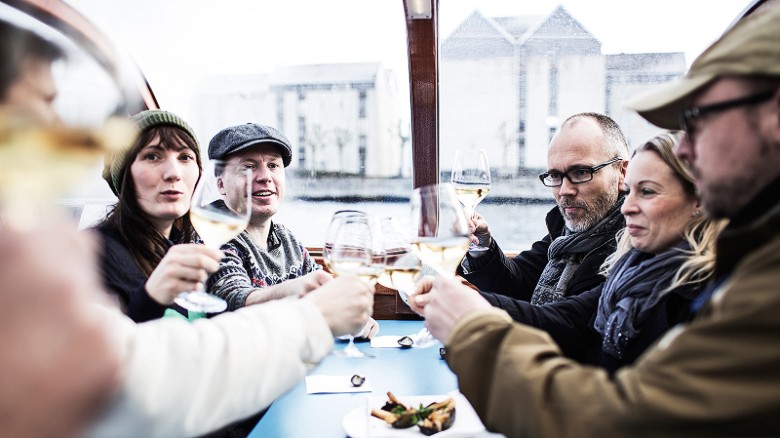 This eating odyssey puts most other Euro festivals to shame.
With 130 events over 10 days, Copenhagen Cooking is an eating odyssey that puts many other Euro food festivals to shame.
The Danish capital has become the epicenter of the New Nordic boom thanks to the likes of Noma (Strandgade 93 Copenhagen; +45 32 96 32 97), and there'll be plenty of chances to try some of the city's best food at this city-wide August event.
Among dishes to try are Restaurant Kronborg's (Brolaegerstraede 12, Copenhagen; +45 33 13 07 08) smorrebrod, developed especially for the festival and set to include the best local herring, plus new fermented creations from the owners of the renowned Relae (Jaegersborggade 41, Copenhagen; +45 36 96 66 09).
Copenhagnen Cooking, August 21-30
Stragusto (Trapani, Italy)
Stragusto celebrates local delicacies as well as foods from Greece, Morocco and Serbia.
Even the most average Italian market can often be every bit as good as an organized foodie festival, but Stragusto is far more than just a few stalls selling local produce.
Held in the pretty Sicilian town of Trapani, it celebrates street food from around the Mediterranean.
That means helpings of the best Greek, Moroccan and even Serbian cuisine, alongside local delicacies and plenty of interesting culinary clashes.
Locals will be serving treats including arancini (saffron rice balls) and sfincione, traditional Sicilian pizza.
Stragusto, July 23-26
Galway International Oyster and Seafood Festival (Galway, Ireland)
Among attractions at this festival is this World Oyster Opening Championships.
This annual bash on the west coast of Ireland has been going since 1954.
Although the weather can be iffy as autumn whips in off the Atlantic, the oysters are always first rate.
As well as the chance to sling back shellfish by the bucketload, there are demonstrations and talks in the Festival Marquee.
Best of all is the World Oyster Opening Championships, where teams from around the world compete to shuck the most oysters in the quickest time.
Galway International Oyster and Seafood Festival, September 24-27
Abergavenny Food Festival (Abergavenny, Wales)
The Abergavenny Food Festival in south Wales hosts 220 local produce stands. There'll be debates about organic food and demonstrations by chefs from across the UK.
This corner of south Wales is one of the prettiest parts of the UK and its annual food festival has become a go-to destination for those after the best new modern British dishes.
This year there will be 220 stands, with local producers selling their wares, debates about organic food and chefs from across the UK serving up new creations.
The main draw is TV chef and modern British food fanatic Tom Kerridge.
Aside from his creations, there's also a new night market serving small plates after the main events have finished.
Abergavenny Food Festival, September 19-20
Loch Lomond Food and Drink Festival (Loch Lomond, Scotland)
Taking place on the shores of Loch Lomond, Scotland, this festival showcases local specialities such as smoked fish.
The 10th annual edition of this festival on the shores of stunning Loch Lomond offers one of the best showcases for Scottish produce.
And no, we don't mean deep fried Mars bars.
On the menu are local specialties like Argyll smoked mussels and venison from the surrounding national park.
For those who like a competitive edge with their lunch, there's even a haggis eating contest that pits eight hungry visitors against each other to see who can eat a pound of the local delicacy quickest.
Not for the small of stomach.
Loch Lomond Food and Drink Festival, September 5-6
Stuttgarter Weindorf (Stuttgart, Germany)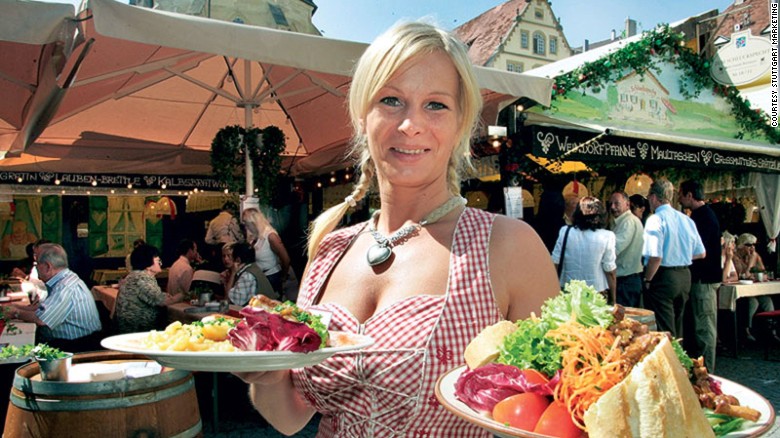 Stuttgarter Weindorf: Celebrating wine in the land of beer.
German wine is criminally underrated.
There's way more to it than just the sweet fizzy stuff usually associated with this beer-obsessed country.
Stuttgart's annual Weindorf sees 28 open air restaurants serving more than 500 wines from Baden and Wurttemberg, with reds, whites, roses and sparkling versions all available.
Fresh pretzels and chocolates will also be available to help mop up the alcohol.
Stuttgarter Weindorf, August 26-September 6
Cheese 2015 (Bra, Italy)
Cheese is a bi-annual bash in the small town of Bra, Italy.
The name's a bit of a giveaway here.
This bi-annual bash sees Italy's best cheese makers converge on the small town of Bra, near Turin.
It's free to visit, although plenty of euros are needed to pay for samples and try out some of the courses on offer.
Whether their hunting for the pungent soft stuff or creamy mountain goat creations, cheese aficionados will be well taken care of.
They just need to make sure there's time for inevitable post-cheese snooze before the next round of stuffing formaggi into their faces.
Cheese 2015, September 18-21