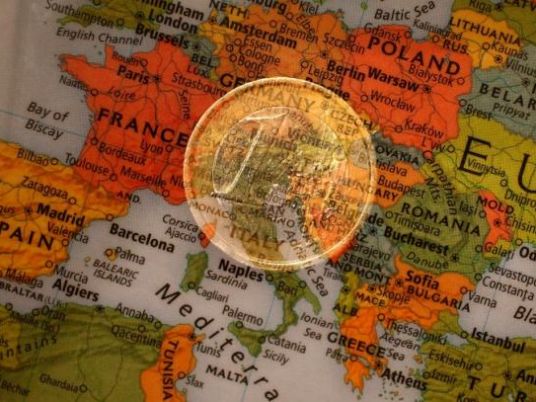 As central bank rhetoric turns more dovish, investors will search for further hints of easing in a week with few data releases to indicate whether years of loose monetary policy are having any material effect.
The European Central Bank chopped interest rates again and bolstered its asset purchase program earlier this month. Surveys on Tuesday will give the first hints since then of any inflationary pressures building in the euro zone.
February was the weakest month in over a year for businesses in the struggling bloc, yet Markit's flash Purchasing Managers' Index, one of the first indicators of the month, is likely to show no change in modest economic growth.
"The sluggish external environment means we don't think there will be a rebound in March, and we expect a further small decrease," wrote economists at Credit Suisse.
However, the ZEW and Ifo surveys on Tuesday will probably highlight a rise in German business and economic confidence this month.
With global growth appearing under threat this year, many central banks have adopted ever looser policy stances. Even the US Federal Reserve has signaled it intends to raise rates only half as much this year as it thought just three months ago.
"After the Fed, Bank of Japan and Bank of England left monetary policy unchanged this month, the spotlight in the coming week will fall on central banks in Asia and Africa, with mixed outcomes expected," said Enam Ahmed at Standard Chartered.
Central bankers in emerging Asia who are struggling to revive slowing growth and keep their financial systems stable are facing new risks as their counterparts in Europe and Japan plunge deeper into unconventional, uncharted policy territory.
Taiwan's central bank is likely to cut interest rates as inflation has remained relatively stable but rates in the Philippines will stand pat since Manila has enjoyed solid industrial production and stabilizing exports data.
Kenya's central bank is also forecast to hold policy on Monday but cut rates in a few months' time: east Africa's biggest economy is one of the few in the commodity-driven continent benefiting from lower oil prices.
Nigeria's benchmark rate is set to remain stable throughout this year as rising inflation leaves little room for easier monetary policy to stimulate growth. Neighbor and oil-producing peer Ghana is also expected to hold its benchmark rate at 26 percent on Monday.
A more modest stance from the Fed takes the pressure to move off many central banks.
The US central bank held policy steady on Wednesday but issued fresh projections showing policymakers expected only two quarter-point hikes by the year's end, half the number seen in December, but in line with a Reuters poll taken beforehand.
"Following a dovish Fed meeting, the market will be paying attention to FOMC member speeches from Lockhart, Evans and Harker, but particularly Bullard, a voter," said Amea Koziol at Investec.
Koziol said markets would also look to housing data, which will probably show existing home sales dipped in February, as consumers are playing a key role in the recovery.
British shoppers are likely to have kept their hands in their pockets in February after taking advantage of the January sales, data on Thursday may show. A Reuters poll suggested a 0.5 percent decline in retail sales volumes.
Official British inflation figures on Tuesday will probably show a small rise to 0.4 percent. However that is likely to be more down to last year's slump in oil prices dropping out of the comparison than any return of pricing power.
The Bank of England left the Bank Rate at the 0.5 percent it has sat at for seven years on Thursday but said sterling had been dealt a big hit by uncertainty in the run-up to the EU referendum and that growth could slow.
Britons will vote on June 23 on whether to quit the European Union. Recent opinion polls have shown the outcome could be close.
That uncertainty has weighed on investment and the Bank of England said firms could delay some spending decisions in the coming months. After a rapid recovery in recent years, British growth slowed in the second half of 2015.