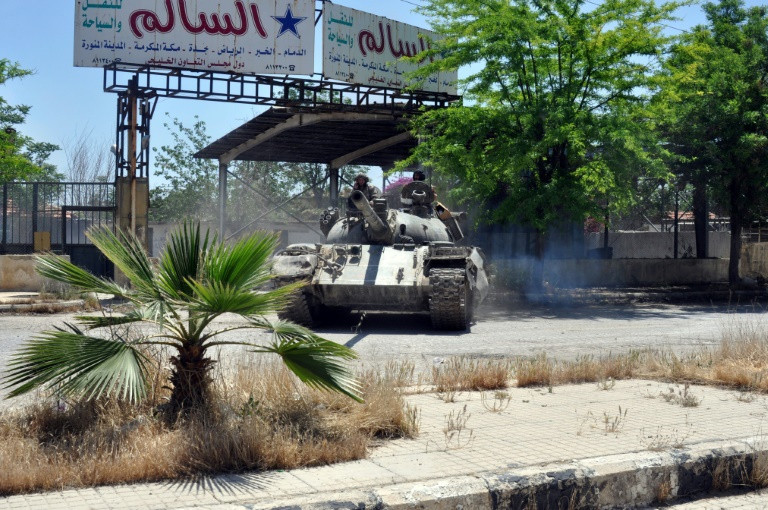 The EU and UN on Tuesday begin a two-day conference to drum up fresh aid pledges for wartorn Syria and reinvigorate the faltering Geneva peace process as the conflict enters its eighth year.
Donor countries, aid organisations and UN agencies will gather in Brussels for the seventh annual conference on Syria's future as international inspectors probe a suspected gas attack in the town of Douma, highlighting the brutal nature of the war.
The meeting comes in the wake of strikes by the United States, France and Britain on Syrian military installations, carried out in response to the Douma incident which has been widely blamed on Damascus.
EU officials hope to beat the $6 billion (5.6 billion euros) pledged at last year's gathering, as a fierce offensive launched by President Bashar al-Assad, backed by key ally Russia, intensifies the crisis.
"We've seen the situation get dramatically worse since the beginning of the year. We've had inside Syria some 700,000 displaced during a period of four months," one senior EU official said.
Some 6.1 people are now internally displaced, more than five million Syrians have fled their country and 13 million people are in need of aid, according to the EU.
Top UN and EU officials will hold talks with aid groups working in Syria and neighbouring countries on Tuesday to get their views before government ministers arrive on Wednesday.
Save the Children International chief executive Helle Thorning-Schmidt urged donors to focus on education, saying a third of Syrian youngsters are out of school and a third of Syrian schools are unusable because of the war.
"We have let Syrian children down. This is the seventh year and they're still being let down," Thorning-Schmidt told AFP.
"2018 has been a very bloody year for Syrian children and one of the things they are missing out on enormously is education."
UN children's agency UNICEF said some 2.8 million Syrian children had missed out on education, warning that in parts of the country simply going to school "has at times become a matter of life and death".
– Pledges exceeded –
According to EU figures, the total given by the international community after last year's conference was $7.5 billion — 25 percent more than pledged — with Germany, the US and EU institutions leading the way.
Alongside the aid drive, the EU's diplomatic chief Federica Mogherini will hold talks with the UN special envoy for Syria, Staffan de Mistura, on Tuesday as part of efforts to restart peace talks.
Eight rounds of talks under UN auspices in Geneva have made little headway, with Assad's government paying little interest while Russia, Iran and Turkey launched a rival process in the Kazakh capital Astana last year.
Russia and Iran are Assad's key allies and their military intervention in Syria is widely seen as helping him stay in power and tipping the balance in the civil war.
Ankara has called for Assad's removal throughout the war, but has worked increasingly closely with Moscow and Tehran in recent months in seeking to find a solution to the conflict.
But the EU still insists the Geneva process is the best way to bring an end to the war.
"The only way to avoid that the Syrian crisis spirals into wider conflict is to put pressure on all parties including the Syrian regime to come to Geneva for meaningful discussions," Mogherini said last week.
EU foreign ministers last week said the conference should be used to "reinvigorate" the Geneva process, but it is not clear how effectively the gathering will be able to do this.
As with previous editions of the conference, neither the Syrian government nor opposition groups will be represented. It also remains unclear who, if anyone, will come for Russia, Turkey and Iran.