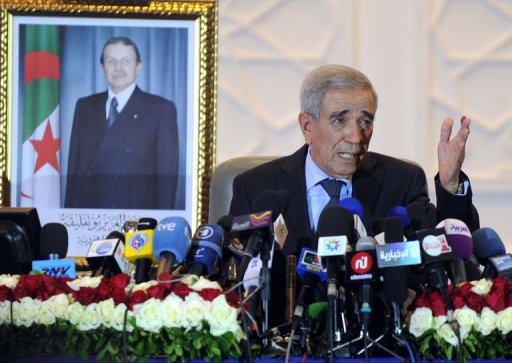 European Union observers gave a qualified endorsement on Saturday to an Algerian parliamentary election which handed victory to the ruling party, bucking the trend of the "Arab Spring" revolts.
Some opposition forces expressed suspicion there had been manipulation of Thursday's vote, a charge the authorities denied.
Jose Ignacio Salafranca, head of the EU's observer mission in Algeria, said there were shortcomings in some technical aspects of the election but there were "as many positive points as there were weak points".
"This election constitutes a first step on the path to reform which should lead … to a deepening of democracy and human rights," he told a news conference.
The National Liberation Front (FLN), the party of President Abdelaziz Bouteflika, won 220 seats in the 462-seat parliament.
The RND party, led by Prime Minister Ahmed Ouyahia, was in second place and a moderate Islamist alliance with links to the ruling establishment came third, according to the official results.
Analysts had expected the Islamists to win the election, That would have brought energy exporter Algeria closer into line with the changes in countries such as Tunisia and Egypt in the wake of last year's insurrections.
Thursday's election was the first time Algeria had invited EU observers to monitor a vote, a move seen by diplomats as a sign it was committed to a more transparent election.
Asked about allegations of vote-rigging, Salafranca said Algeria had a mechanism in place to expose any abuse and, if it did happen, it would be up to the judiciary to decide what action to take.
He said he was concerned that the Interior Ministry had refused to give his observers free access to the national electoral role.
In past elections, evidence has emerged of the same people being registered to vote in several places, creating the potential for ballot-rigging.
The observers also noted there was a need to build up voters' trust in the political system, a reference to the low turnout. Over half of the electorate stayed away on Thursday, with many saying their vote would change nothing.
"This election represents an important stage. We would like to encourage the pursuit of democratic reforms in the near future," said Tokia Saifi, a member of the European Parliament who took part in the observation mission.
An opposition party that boycotted the election said the results had been manipulated, and called on foreign observers to hold the authorities to account.
The official vote tallies "perpetuate a tradition of falsifying the results of elections which has been carrying on since independence," the secularist RCD party said in a statement.