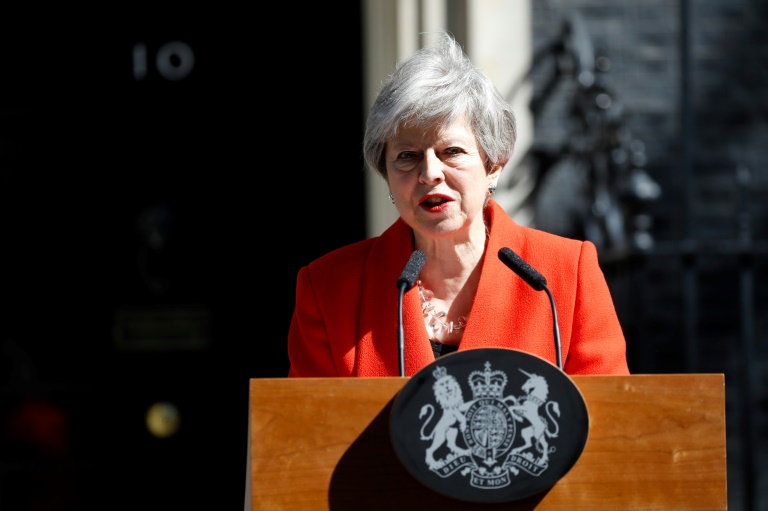 Reactions from Europe started flowing in shortly after Theresa May announced she will step down as British prime minister on June 7.
May's decision comes at a time when the process to deliver the UK's exit from the EU remains stuck in Parliament as lawmakers have so far been unable to agree on the contours of a withdrawal agreement.
Read more: Theresa May becomes UK's latest Brexit political casualty
German Chancellor Angela Merkel noted May's decision "with respect," said a German government spokesperson.
The further steps in the Brexit process now depend on domestic political developments in the UK, she added. "Germany continues to wish for an orderly British exit from the EU. This would require a successful vote in the House of Commons."
French President Emmanuel Macron urged "rapid clarification" from Britain on what it wants from Brexit. In a statement released by the Elysee Palace, Macron said he stands ready to work with a new British prime minister, but that "the principles of the EU will continue to apply, with the priority on the smooth functioning of the EU."
Irish Prime Minister Leo Varadkar warned that the election of a new prime minister in Britain may lead to a new phase in Brexit negotiations that could be "very dangerous" for Ireland.
"We may see the election of a euroskeptic prime minister who wants to repudiate the withdrawal agreement and go for no deal or we may even see a new British government that wants to see a closer relationship with the EU and goes for a second referendum," Varadkar told Ireland's Virgin Media News.
"But whatever happens we are going to hold our nerve. We are going to strengthen and build our alliances across the European Union and we will make sure that we see Ireland through this," Varadkar said.
'Woman of courage'
Dutch Prime Minister Mark Rutte said that he had spoken to May to convey his thanks and respect following her announcement. He tweeted that the "the deal reached between the European Union and Britain for an orderly Brexit remains on the table."
Spain, however, warned that a hard Brexit seems almost impossible to avoid after May's resignation. "The British government, the British Parliament" would be "solely responsible for a no-deal exit (from the EU) and its consequences," said Spanish government spokeswoman Isabel Celaa.
Predicting "difficult times" ahead, Celaa said Britain's anticipated "disorderly exit" was "a clear example of what can happen if we let ourselves get swept along by extremes."
Meanwhile, the European Commission said President Jean-Claude Juncker will "equally respect and establish working relations" with the new UK prime minister, "whoever that might be." Juncker also lauded May as "a woman of courage," and said he viewed her resignation "without personal joy."
Britain is set to leave the EU without a deal on October 31 unless an agreement can be reached with the EU that is also acceptable to Britain's Parliament.
sri/rt (AP, AFP, Reuters, dpa)