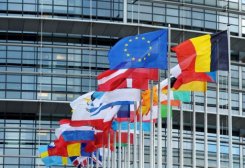 The European Union Embassy in Cairo denied reports on Thursday that the EU was threatening to cut off aid to Egypt.
The embassy claimed that the media misinterpreted statements by Stefan Fuele, the EU's commissioner for development and growth.
In a report on reforms in Eastern Europe, the Middle East and North Africa, the European Commission listed "serious setbacks" in Egypt in areas such as human rights, and criticized President Mohamed Morsy for pushing through constitutional changes that plunged the country into "a deeply divisive political crisis."
Failure to address EU concerns could result in cutbacks in aid for Morsy's cash-strapped government, Reuters quoted Stefan Fuele as saying in a news conference.
The embassy said Fuele was talking specifically about extra money earmarked for democratic reforms, not about aid in general.
EU representative Benardino Leon had told Al-Masry Al-Youm that Europe agreed in November to support Egypt with 5.6 billion euros.
Egypt seeks to offset a budget deficit that is expected to hit LE180 billion this year by borrowing from other countries and international institutions. It is also negotiating with the International Monetary Fund for a loan of US$4.8 billion.
Edited translation from MENA