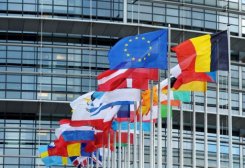 The European Union warned Egypt on Wednesday it could lose funds from its 5 billion euro aid package if democratic reforms fail to satisfy Brussels, adding that Cairo has already lost some additional funding.
In a report on reforms in Eastern Europe, the Middle East and North Africa, the European Commission said Cairo has shown insufficient progress since the 2011 revolt that overthrew President Hosni Mubarak and handed power to the Islamist Muslim Brotherhood.
It listed "serious setbacks" in areas such as human rights, and criticized President Mohamed Morsy for pushing through constitutional changes that plunged the country into "a deeply divisive political crisis."
Failure to address EU concerns could result in cutbacks in aid for Morsy's cash-strapped government, said Stefan Fuele, the EU's commissioner for enlargement, during a news conference.
"Egypt has to deliver [to receive] up to 5 billion euros this year and next," he said. "This is the way we can [stress] our [position]."
Fuele said the EU has already stopped payments from an aid fund that makes specific links to democratic reforms, known as "more for more." The fund was set up in the aftermath of uprisings in North Africa in 2011, when the EU overhauled its aid policies to correct past failures in promoting democracy.
"Egypt has not been one of those countries benefiting from the 'more-for-more' principle and extra resources," Fuele said.
The commission said Morsy needs to improve dialogue with opposition parties and religious groups to "ensure that the Constitution is co-owned by all Egyptians."
It wants to see Egypt abandon the practice of using military courts to judge civilians and create conditions for non-governmental institutions to function according to international standards, the commission said in the report.
It also urged Morsy's government to draft a social safety net, ensure macroeconomic stability and strengthen public finances as well as work toward a free-trade deal with the EU.
Addressing Morsy's achievements, the commission listed the lifting of the state of emergency in Egypt and an "orderly" organization of elections.
EU diplomats say Brussels' relationship with Cairo is complicated by the desire to maintain good relations with the government, in part because of its role in regional diplomacy, including its role as a mediator between Israel and the Palestine.