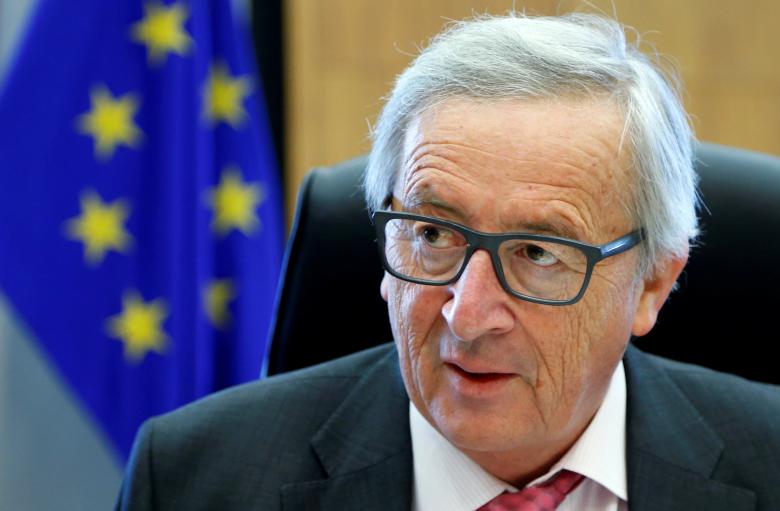 Europe's chief executive Jean-Claude Juncker appealed to EU governments on Friday to forge a military alliance to defend the bloc and enhance its power abroad, warning that the United States was no longer prepared to do it for them.
Two days after unveiling a multi-billion euro plan to help fund European defense research, the Commission President Juncker said it was time to integrate militaries and defense industries, seizing on the strong backing from France's new president and Britain's decision to leave the bloc.
"I see the tide turning," Juncker told a conference in Prague, citing growing support in EU capitals for military cooperation, notably from French President Emmanuel Macron.
"The call I make today is not only in favor of a Europe of defense — it is a call in defense of Europe," he said.
Although the European Union has more than a dozen military missions abroad, the world's biggest trading bloc has never been able to match its economic might with broad defensive power, preferring to rely on the North Atlantic Treaty Organization.
Britain had long blocked EU defense integration, fearing a European army that would challenge national sovereignty. NATO broadly supports EU defense integration, as 22 EU states are members of the U.S.-led alliance.
Chiding the bloc for decades of failed attempts to work together on defense since the 1950s, Juncker said that even before the election of President Donald Trump, the United States considered it was paying too much for wealthy Europe's security.
With Trump, who has sharply criticized European states for not spending enough on defense and has refused to explicitly support NATO, the reality was more stark, he said.
"NATO can no longer be used as a convenient alibi to argue against greater European efforts," Juncker said. He said the United States is "no longer interested in guaranteeing Europe's security in our place."
The economically powerful EU has long been able to boast of a "soft power" with recent diplomatic successes including its role in brokering the 2015 Iran nuclear deal.
But the EU's inability to help bring peace to Syria or significantly influence events abroad, from Turkey to the Middle East, meant that soft power was not enough, Juncker said.
"We have no other choice than to defend our own interests in the Middle East, in climate change, in our trade agreements."
EU leaders will discuss broad European defense plans, first put forward by France and Germany following Britain's EU referendum a year ago, at a summit on June 22-23 in Brussels.
France, Germany and Italy want ways to pay for common military missions abroad, to be able to use EU battle groups for the first time and for industries to collaborate and develop weapons and helicopters that can be used by all EU armies.
EU states jealously protect their defense contractors, meaning the bloc has developed 178 different weapons systems, compared to 30 in the United States.
"Absurdly, there are more helicopter types then there are governments to buy them," Juncker said.
Report by Robert Muller in Prague; Additional reporting by Jason Hovet in Prague and Gabriela Baczynska and Robin Emmott in Brussels; Reuters