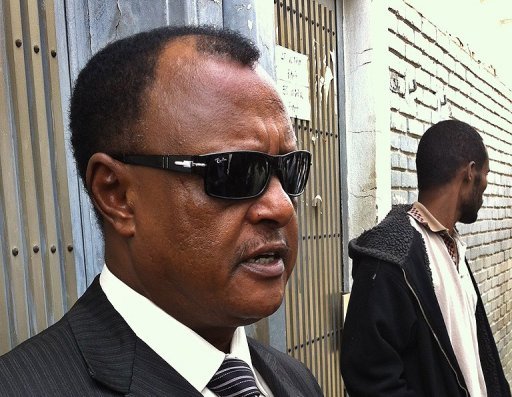 An Ethiopian court on Friday jailed a journalist for 18 years for "terrorism" and 23 other reporters and activists for between eight years and life, in sentences condemned by rights groups.
Journalist Eskinder Nga and opposition member Andualem Arage had been accused of promoting anti-government protest in Ethiopia, including by using examples of the Arab Spring uprisings in the media.
The sentences drew swift condemnation from the US-based Committee to Protect Journalists (CPJ).
The Ethiopian government was using "the fight against terrorism as a cover to silent peaceful voices of dissent," it said.
"This sentence makes clear that Ethiopia's growth and stability is dependent on an iron fist from a leadership intolerant of critical reporting," said the CPJ's Mohamed Keita.
Hailu Araya, a spokesman for the opposition party Unity for Democracy and Justice (UDJ), described the sentences as "tragic," accusing the court of "terrorizing people who say anything."
Arage, a UDJ member, smiled tightly and bowed his head as he was sentenced to life without parole.
Defense lawyer Abebe Guta said his clients had not received a fair trial and pledged to appeal.
"In my personal opinion, we rebutted the prosecution's evidence beyond reasonable doubt, I think it's been not reasonably considered," he told reporters.
Nga would appeal the sentence, he said, adding that Arage and his other clients were also considering filing appeals, which they have 45 days to do.
Nga was jailed for 18 years, while Arage got life because of the weight of the case against him, said Judge Hussein Yimer.
Both men were found guilty of "participation in a terrorist organization" and "planning…(a) terrorist act."
Arage was also found guilty of serving as a "leader or decision maker of a terrorist organization."
Nga, an internet blogger, was convicted of working with the outlawed Ginbot 7 group, considered a terrorist group under Ethiopian law.
"[Nga] has been working with the Ginbot 7 organization" which had aggravated his sentence, the judge told him.
"After taking into consideration how the criminal offense was committed, the court decided on 18 years imprisonment without parole," he added.
The court found the 24 defendants guilty of "terrorism" charges last month.
Although 16 of them were convicted in absentia, having fled into exile, both Nga and Arage were in court on Friday to hear their sentence.
Dressed in suits, they waved to family members as they filed into the court room, filled with friends and family as well as journalists and diplomats.
All of the defendants were convicted under Ethiopia's anti-terrorism law, which rights groups criticize for being vague and used to quash freedom of speech and peaceful political dissent.
In December, two Swedish journalists were found guilty of terrorism and sentenced to 11 years in prison.