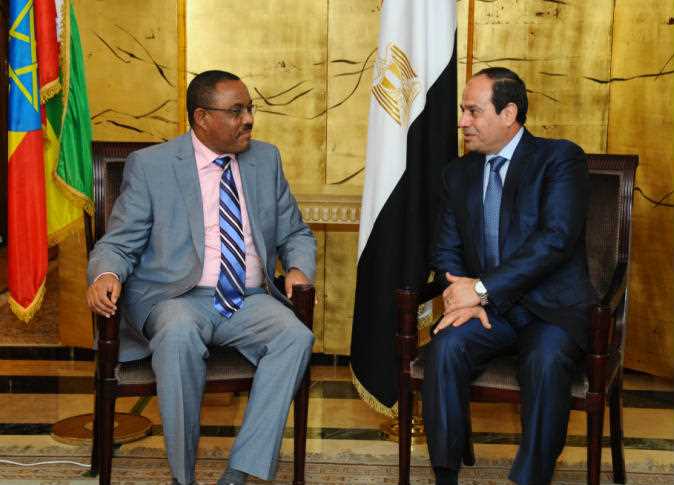 Ethiopia Prime Minister Hailemariam Desalegene said on Saturday that his country will not accept any arbitration by a third party on the Grand Ethiopian Renaissance Dam (GERD).
In statements to the Ethiopian News Agency (ENA), Desalegene said that the three countries involved in negotiations over the dam (Egypt, Sudan and Ethiopia) are able to resolve possible disputes by themselves.
Desalegene's remarks are seen as a retraction of recent statements he made regarding the possibility to include the World Bank as a neutral party in the negotiations.
Desalegene finalized his official visit to Egypt on Friday, during which he said that his country will not put Egyptian lives at risk, assuring that the River Nile will continue to flow between the two countries.
In his most recent comments on the issue, he asserted that Ethiopia will not accept Egypt's request to include the World Bank in the tripartite technical committee's talks on GERD.
"Seeking professional support is one thing; transferring it to an institution is another thing. So we told them that this is not acceptable with our side," Desalegene said.
The World Bank announced last month its initial approval on a proposal by the Egyptian Ministry of Foreign Affairs to participate in the tripartite committee of the Grand Ethiopian Renaissance Dam as a technical party, which will have the authority to give its unilateral opinion on the dam's construction process, according to Egyptian sources.
During his visit to Cairo, Desalegene also said that GERD will not cause any harm to any entity, highlighting that the River Nile will not be a matter of dispute between the two countries and that his country understands how the Nile is a source of life for Egypt.
Edited translation from Al-Masry Al-Youm