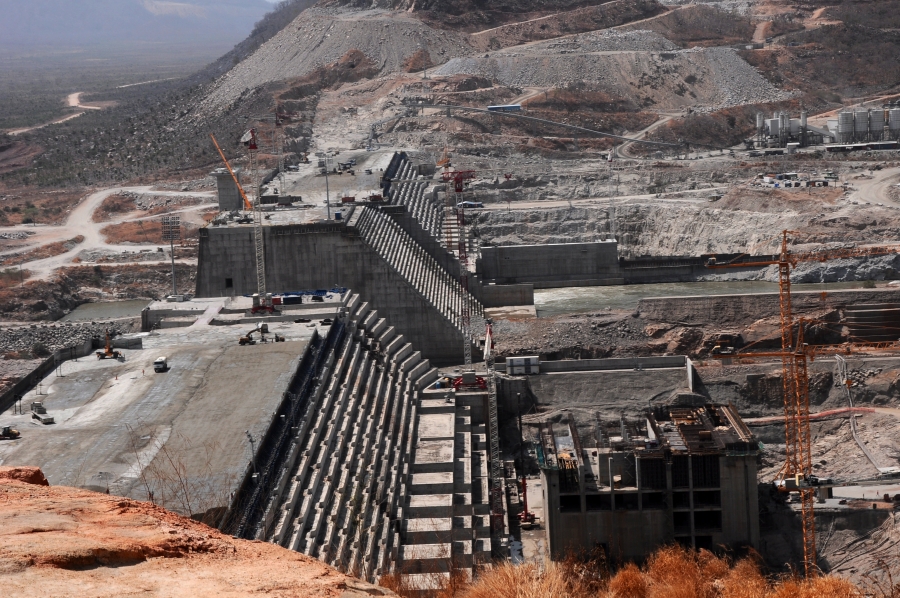 Ethiopian President Sahle-Work Zewde launched on Wednesday a community fundraising program to support the contentious Grand Ethiopian Renaissance Dam (GERD) and complete construction ahead of schedule, amid rising tensions between Egypt and Ethiopia as the latter pressed ahead with its plans to fill the dam before an agreement had been signed by all sides.
According to the Ethiopian News Agency, filling of the dam will begin in July, while the completion of the entire project is scheduled for 2023.
Zewde likened the completion of the project to the battle of Adwa, when Ethiopia defeated the Italian colonial army in 1896, and called the GERD a model for the "unity" of the Ethiopian people in statements reported by the agency.
"(The Renaissance Dam) is our (Ethiopia's) weapon to overcome poverty and our hope for future development," she added.
Zewde's statements on Wednesday came as Ethiopia rejected Egypt's warning about filling the dam before an agreement is signed by all sides.
Egypt took part in the latest meeting over the Grand Ethiopian Renaissance Dam (GERD) in Washington on February 27 and 28, which produced a final agreement regarding filling and operating the GERD. Representatives from Addis Ababa were noticably absent from the meeting, and only Egypt has signed the agreement so far.
Egypt relies on fresh water from the Nile and has voiced concerns that the GERD would negatively impact the country's water supply, especially in light of overpopulation fears, and has thus insisted throughout negotiations that measures be put in place to protect downstream countries in case of drought during the filling process at the dam.
Ethiopia had requested the postponement of the meeting and said it needed more time for consultations. Egypt, meanwhile, said that Ethiopia was deliberately absent from the meeting to block negotiations from moving forward.
Although Ethiopia's Foreign Minister Gedu Andargachew reiterated during a press conference on Tuesday that negotiations are the only solution to reaching an agreement, he also argued that his country had the full right to lift its citizens out of poverty by using its natural resources, adding that "although Ethiopia built the dam from this point of view, it entered into talks to enhance confidence with the downstream countries (Egypt and Sudan)."
Meanwhile, Egypt's Ministries of Foreign Affairs and Water Resources has rejected Ethiopia's plan to fill the reservoir of the Renaissance Dam in parallel with construction work on the dam, regardless of whether an agreement has been reached with the downstream countries.
The Declaration of Principles agreement, which was concluded on March 23, 2015, stipulated in Article five the need for Ethiopia to agree with the downstream countries on the rules for filling and operating the dam before it began filling the reservoir, a statement from the Ministries added.
The Foreign and Water Resources Ministries also reiterated that the "fair and balanced agreement" from the US and the World Bank was built on terms that Ethiopia had agreed upon in earlier meetings.
Edited translation from Al-Masry Al-Youm