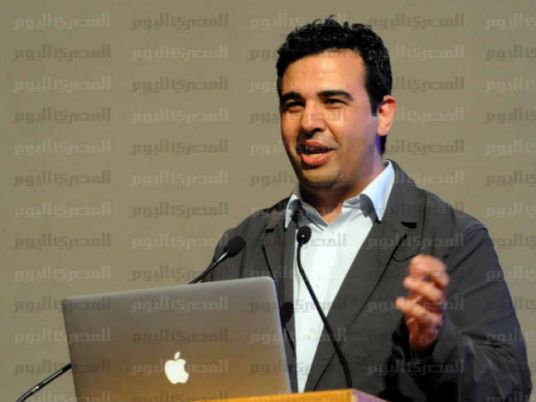 The planetary scientist and former presidential advisor Essam Heggy has announced a new initiative to identify and back an alternative candidate for Egypt's 2018 presidential elections.
The initiative is centered on a grouip of liberal revolutionaries from the uprising of January 25, 2011, and will take education, equality and national unity as its key themes.
Heggy said on his official Facebook account that initiative will offer an alternative vision of a modern nation based around civil society, and reflecting the experiences of young Egyptians, both inside and outside Egypt.
However, so far, the campaign has not decided on any candidates for the role of prospective president, according to the scientist.
"I don't care about the names and I'm not a member or a head of any political body," said Heggy. "I only believe that science is the real way out."
In a second Facebook post, Heggy clarified that the initiative is a peaceful Egyptian and will be open to everyone who wishes to join.
He said members of the initiative are joining forces to fight poverty, ignorance and disease. Meanwhile, justice, education and healthcare would be the key to achieving the aspirations of the Egyptian people, he said, building a nation with a strong economy and with its dignity in tact.
As well as aiming to halt the current "economic collapse", those backing the initiative hope to ease social tensions and promote tolerance, an apparent reference to sectarian tensions that periodically erupt across Egypt.
Heggy also said the vision involved a "civil" nation, suggesting a desire to move away from military-backed governments, such as that of current President Abdel Fattah al-Sisi.
The new initiative is based around a comprehensive vision of develpement through an integrated five-point plan.
The five axes include: developing educational and cultural institutions; developing the economy to fight poverty and unemployment; religious tolerance, freedom and equality; freedom and equality for women; and the development of the health sector.
"The plan would be implemented over a period of four years, during which we can use the Egyptian expertise both inside and outside the country, setting priorities in the state budget and devoting all internal revenue and foreign aid for four years to the five foundations," Heggy said.
He added that the initiative will coordinate with all the civil parties in Egypt to agree on the mentioned five policy points, with a view to presenting a policy platform for a presidential candidate by 2018. The initiative will also propose a Cabinet team able to take quick measures to correct Egypt's current course, turning it back toward the goals of the January 25 uprising, thereby representing the demands of the Egyptian people, said Heggy.
"Media criticism and rumors won't discourage the campaign from its main goal. The Presidential Team 2018 initiative is an ethical and educational project with no headquarters or party or social media page. However, it will join the existing civil political forces demanding the release of political detainees," he said.
Speaking to Al-Araby television channel, Heggy refused to reveal any names of parties or individuals engaged in the presidential campaign.
"The project will include individuals, different political powers and parties," he said
He said that several members of the initiative have previously been arrested for their political views, but they are willing to forgive and turn over a new leaf.
"My brother was arrested three times due to his anti-regime blogs after June 30, and he was released two month ago," said Heggy.
The current initiative is in part due to the realisation that protest movements can be hijacked and manipulated, meaning that little can be achieved without a strong political platform operatining as part of the democratic process.
"I believe our team can win the 2018 presidential elections, even if Sisi runs for a second term," Heggy said.
Mixed reactions
While Heggy's statements have been met with support and enthusiasm in some quarters, they have also sparked controversy. There have been harsh criticisms and accusations that he is part of a plot to bring down the Egyptian government of President Abdel Fatta al-Sisi.
"A good call from a wise man," wrote constitutional expert Mohammed Nour Farahat. "But I hope Heegy will publish his autobiography and why he left Egypt, and how he received his PhD from a European University and then joined the work of NASA, which hires only American citizens in accordance with strict security requirements."

Farhat said that he appreciates Heggy's contribution, and the questions about his background are not intended to cast doubt on the scientist's sincerity. However, Farahat said that transparency is a prerequisite for those who want to contribute in serving the country.
"The Egyptian scientist has an honorable planetary profile, but does he have smillar knowledge of a country's management?" asked media professional Yasmin al-Khatib.
Meanwhile, Tarek Fahmy, an expert in political affairs at the National Center for Middle East Studies, said that Heggy has no political background and "has been attacking Sisi since his first day in office, possibly because Sisi did not include him in the presidential team."
"Heggy's statement is an individual effort because everyone knows very well that he doesn't have any experience in the political field, while all those people who have announced their support to him in the future are not welcomed by Egyptian society," Fahmy said.
According to the political expert, Heggy's statement is unlikely to have any impact so long as Sisi is still popular on the Egyptian street. He also said it is very early to comment on the 2018 presidential elections.
Political science professor Hazem Hosny said that news of the initiative spread like wildfire after Heggy's announcement, but many people wrongly assumed that Heggy was the founder of the initiative and harshly attacked him.
"I knew about this initiative more than a month ago," said Hosny. "I think Heggy does not belong to the organizational structure of the program, which was clear from Heggy's statement.
"But I believe that the program has yet to organize itself into an organizational structure. They are just a group of serious and well-educated youths who love their country and are concerned about the cloudy future.
"They have a range of fresh ideas and are passionate about benefiting their country — if their society will allow them," Hosny said.
Hosny said that the group is encouraging public debate and popular participation with respect to the Constitution and public order.
"I wonder if this early announcement was agreed by the whole program team or if he declared this initiative in a provocative attitude against the regime without prior agreement with the founders?" wondered Hosny.
"Did his speech include only his political views or did it also represent the entire group?"