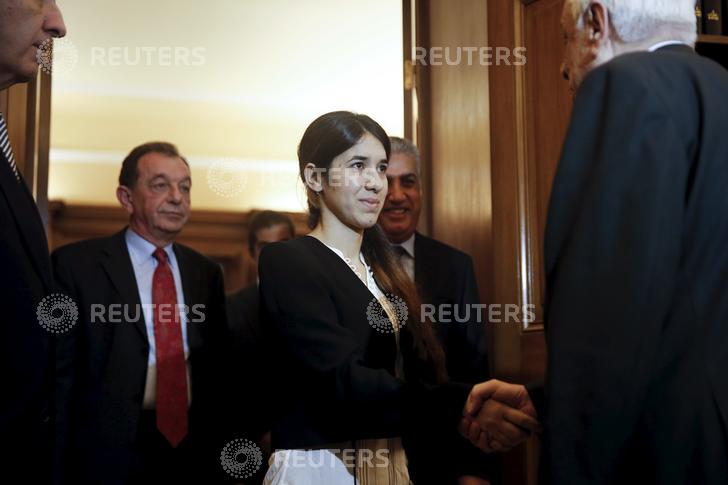 Nadia Murad Basee Taha, a Kurdish woman who was captured and sold into sex slavery at the hands of the Islamic State (IS), has been appointed a Goodwill Ambassador for the United Nations.
Murad, 23, belongs to Iraq's Kurdish ethnic minority, the Yazidis, who have been persecuted by IS fighters, with thousands murdered, raped and displaced by IS.
In 2014, Murad was rounded up when IS fighters raided her village, becoming one of thousands of Yazidi women who have been subjected to sex slavery by the terrorist organization, thousands of them still held captive.
Of all the minorities in the region controlled by IS, the Yazidis, who number around 230,000, have been the most targeted for persecution. Since they do not fall into the normal religious categories of Christian, Jew or Muslim, they are seen by IS as "non-believers".
In 2014, some 5,000 Yazidi men were murdered in the Sinjar Mountains in the North of Iraq, when IS fighters captured the area. The mountains were later reclaimed by the Kurdish Peshmerga forces in 2015.
According to the United Nations Office on Drugs and Crime (UNODC), Murad's appointment marks the first time that a survivor of such atrocities has been appointed as a UN Goodwill Ambassador,
Since her appointment, Murad has met with several heads of state and global leaders to raise awareness of the plight of her people. According to the UNODC, her ambassadorship will "focus on advocacy initiatives and raise awareness around the plight of the countless victims of trafficking in persons, especially refugees, women and girls."
"I did not want to kill myself — but I wanted them to kill me," Murad said during her testimony in front of the UN Security Council in December.
Murad advocates for those persecuted by IS in Iraq and has been nominated for a Nobel Peace Prize for her work. She has also been selected by Time Magazine on their list of Most Influential People in 2016.
"Daesh [IS] came to kidnap, to murder, to rape. This was genocide. It is that simple. In a matter of days, if not hours, thousands of Yazidis were killed and thousands of women and children were taken just because they were Yazidis. I was taken to Mosul with others, I was used in the way they wanted to use me. I was not alone, and perhaps I was the lucky one. As time passed I found a way to escape, whereas thousands of others could not. They are still captive," said Murad.
Murad and the Yazidi activist group Yazda are embarking on a mission to bring ISIS to justice. They are represented internationally by celebrated human rights lawyer Amal Clooney, who said recently, "Thousands of Yazidi women have been enslaved by a terrorist organization, IS, that is committing genocide. And yet no one is being held to account. I am honoured to represent Nadia in her courageous quest for legal accountability."
Murad is aiming to build a case of genocide against the Islamic State that she hopes to bring to the International Criminal Court.
Murad's induction ceremony is set to take place this Friday at the United Nations Headquarters in New York, to mark the International Day of Peace. It will be held in the presence of Secretary-General Ban Ki-moon, H.E. Ambassador Samantha Power, Permanent Representative of the United States to the UN, as well as Clooney.