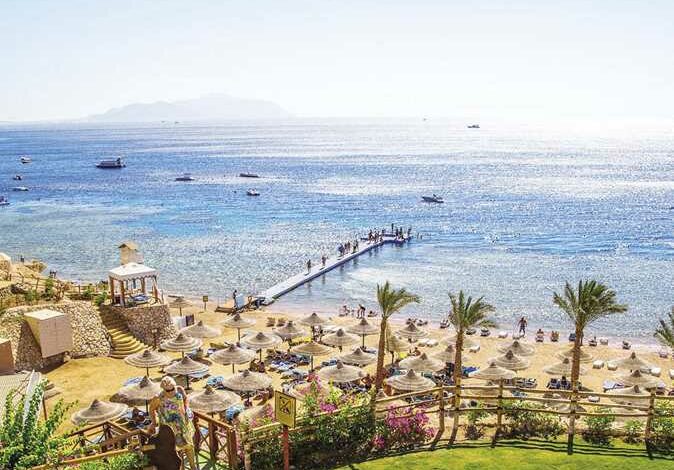 Egyptian Environment Minister Yasmine Fouad and Minister of Tourism and Antiquities Khaled al-Ananiy held an extensive meeting to prepare for Egypt's hosting of the COP27 conference on Climate Change in Sharm el-Sheikh.
Fouad explained that the meeting discussed aspects of cooperation between the two ministries before the convening of the conference, and the measures being taken to cooperate in regards to the "sustainable tourism strategy" and the environmental standards it includes for hotels, restaurants, the green list and the eco-lodge guide.
The meeting discussed the steps taken to transform the city of Sharm el-Sheikh into a green city, and the conversion of means of transportation within the city to natural gas or electricity is being studied.
She added they also dealt with the measures that will be taken to raise the efficiency of hotels within Sharm el-Sheikh and the steps for them to obtain the green mark, and the training courses that will be provided for workers to raise their capabilities, in addition to the procedures for diving centers to obtain the green mark as well.
The Minister of Environment further said that the meeting touched on coordination to prepare for eco-tourism trips that will be organized for delegations to visit archaeological sites in Egypt, which will extend outside Sharm el-Sheikh, such as Luxor, Aswan and Cairo, during which they will learn about the environmental projects in those areas.
The conference will witness the attendance of nearly 30,000 participants from around the world, she indicated.
Fouad stressed the importance of the global promotional campaign that the ministry is currently implementing, which presents Egyptian success stories in the field of addressing climate change and highlights the transformation of Sharm el-Sheikh into a green city, which will encourage eco-tourism in Egypt during the coming period.
The minister praised the role of Tourism Ministry in ecological and sustainable tourism, which yielded many clear international results. And she highlighted the part the Ministry of Tourism contributed towards organizing the climate conference in Sharm el-Sheikh.