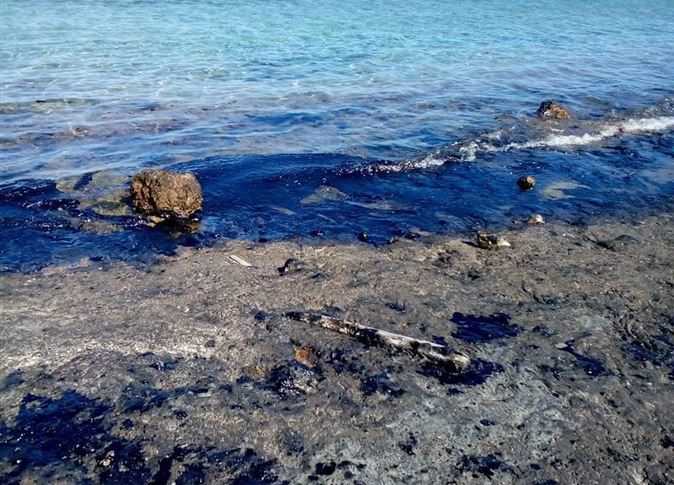 The Environment Affairs Authority in Hurghada filed on Thursday a claim against the General Petroleum Company over a Ras Gharib oil spill in the north of the Red Sea governorate. The director of Amer Field, affiliated with the company, was implicated in the claim.
The Environment Affairs Authority referred to the report it had prepared on the incident after the authority had analyzed a sample of the spill at the Environmental Affairs Authority branch of Suez.
The sample was identical to the oil stamp of one of the offshore platforms belonging to the General Petroleum Company, according to the report.
The Ministry of Environment decided to form a committee to determine the value of financial damages sustained to the marine environment as a result of the spill in order to calculate the fine to be imposed on the company.
The Environment Ministry announced July 5 that it spotted a crude oil spill covering 1,500 meters off the coastal area of Ras Ghareb in the north of the Red Sea governorate and declared a state of emergency while cooperating with the Petroleum Ministry to determine the spill's source.
The governorate's authorities were notified of a spill that caused crude oil to flow across the beach extending to the maritime area amid warnings that individuals should move to other areas.
The concerned agencies in the two ministries have deployed a specialized group to combat the pollution by dealing with the leakage and amending it. The group will also review existing oil platforms in the region to determine the source of the pollution by analyzing the oil fingerprint. Necessary legal action will be taken.
Marine environment protection societies warned against the recurrence of oil pollution as it poses great danger to the environment by killing marine life and polluting diving areas and coral reefs.
Edited translation from Al-Masry Al-Youm